Activities Bulletin
November 2019
If you've joined Chicago Mensa Meetup, also check out the Calendar, which may have additional events posted that are not in the November ChiMe. (And if you haven't, please consider signing up for this great tool — an active Mensa number will be requested to verify your Mensa membership before you can be added to our CAM Meetup group.) Meetup will have the same RSVP contact information that is on our website and in ChiMe. On Meetup, even though events may have an RSVP option, a few CAM event coördinators are not members of Meetup. You may RSVP there to let other CAM Meetup members know you are attending, to easily add the event info to your calendar, and to set up notifications for the events, but you should always contact the CAM event coördinator as specified.
In addition to the events listed below (which includes all those listed in ChiMe and usually all those listed on Meetup), some area groups and the youth-related groups have their own closed Facebook group where they may publish events and details of events which are not included on our website. Contact South Suburban Coördinator Jeudi or Southwest Area Group (SwAG) Coördinators Kevin and Steve for information on how to join their respective Facebook group. Contact Gifted Youth Coördinators Stacey/Stephen or the Teen Coördinator to join their Facebook groups.
1 /Friday
ChiMe Activity Bulletin and Advertising Deadlines. Last day for these submissions to the December ChiMe.

ChiMe Editorial Deadline. Last day for editorial submissions to the December ChiMe. Please submit original articles, insights, puzzles, brain teasers, or short poems. Your fellow Chicago Area Mensans would love to hear from you.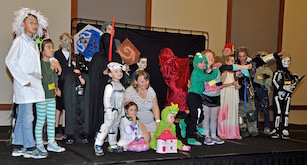 HalloweeM 44: May the Fours Be With You Continues! all day. It's Halloween weekend and you want to dress up and go to a party tonight, or you just want to pretend to be someone else for the night. This is a fun opportunity to attend the largest Halloween party by coming to the RG today. See great costumes, participate in the contest (best & worst pun, traditional, best group, best theme-related, etc.), enjoy a delicious meal, imbibe if you like, meet Mensans from all over the world, and dance the night away. It's the perfect party, so
2 /Saturday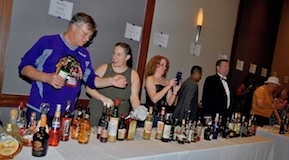 HalloweeM 44: May the Fours Be With You Continues! all day. The program offers something for everyone and there are always games and tournaments. You'll have plenty of opportunities to be stimulated by everything WeeM has to offer. Evening events include Pretentious Drinking, the Epicurean Experience, dancing and more. Take advantage of the photobooth and the fun props provided. And please consider donating an hour or two of your time especially in hospitality — it's the volunteers that make this RG so great. Can't decide where to go for dinner — there are a lot of dining options near the hotel.
3 /Sunday
Daylight Saving Time

ends at 2 AM. Remember to reset your clocks back.
HalloweeM 44: May the Fours Be With You Continues! until 4 PM. Join us for the program, games, awards and more. By participating in the fun, sometimes silly, tournament "Amazing Race: WeeM Style" scheduled in the morning, perhaps you can be the star of the show. Attend the CAM Business Meeting, find out which of the volunteers won monetary awards, and check out the program and tournaments. And please consider donating an hour or two of your time to help pack up — it's the volunteers that make this RG so great. For those interested in visiting some local sites — check out Things to Do Nearby.
CAM Board Meeting 10 AM at the Westin North Shore located at 601 N. Milwaukee Ave. in Wheeling.

Mensa Testing 2 PM at the Westin North Shore located at 601 N. Milwaukee Ave. in Wheeling. You should preregister. Latecomers will not be admitted. If you are or someone you know is interested in joining Mensa, see our Testing Information for contact details and additional dates/locations. Mensa members, forward your AML Mensa September e‑mail with our local group Mensa Voucher Program (MVP) Code ("WindyCity19") now to any interested non-members so they can preregister and take a future test, or submit qualifying prior evidence, for free. Recipients of the MVP code, you have until the end of this month to use the MVP code. Want to know more? Visit the American Mensa website.
5 /Tuesday
7 /Thursday
Southeast Side Mensa Social (SEMinalS) Cancelled. Mensa dinner at Cocula South Chicago located at 8847 S. Commercial Ave. in Chicago. We will probably be in the back room near the windows nearest Commercial Ave. I [Carol] will try to display a flag of some kind. To RSVP or for more information, contact Carol (her contact information can also be found in the November ChiMe). RSVP recommended as event may be cancelled without notice. This event will recur on the first Thursday of the month.
Event Cancelled!!
8 /Friday
Rockford Mensa Dinner 6:30 PM. Join Dave and other Rockford-area Mensans for dinner at the Thunder Bay Grille, 7652 Potawatomi Trail in Rockford (NE corner of State St. and Bell School Rd., in front of the Holiday Inn, across the road from Ruby Tuesday's). To RSVP, for more information, or to get on our e‑mail list, contact Dave L., our Rockford Area Coördinator.
9 /Saturday
Poetry Discussion 1:30 PM. Bill K. often researches the poets for our meetings, presumably a carryover from his work as a computer systems analyst and his wide-ranging interests. Call him for a copy of the poems and call our generous host, Mary G. for directions to her north-side Chicago home. Contact Joe D., the SIG coördinator for general information about this SIG. This event is usually held on the second Friday of the month.
Schedule Change!!
SwAG Session 4 PM. Join the Southwest Area Group for its monthly, laid-back time together with food and talk of any imaginable topic. We meet at Kevin's home (aka SwAG HQ) on Windstone Dr. in Plainfield. RSVP by one week prior (Saturday, November 2nd) is required. Please see the Southwest Area Group Facebook page to RSVP and for information about this and other SwAG events; contact the Southwest Area Coördinators to find out how to join (Kevin's contact information is also on our website). We've been meeting on the second Saturday of most months. Hope to see you there!
Chinese on Saturdays 6 PM. We meet at Lao Sze Chuan House, 1331 Ogden Ave. in Downers Grove. Come for good food, good conversation, and occasionally some slightly warped humor. Please RSVP by 2 PM via e‑mail, Meetup, or phone. For those using the phone or whose Meetup messaging is blocked, provide a way you can be contacted about any last-minute changes to the event. For e-mail or phone RSVPs, Walt L.'s contact information can be found on our website or in the November ChiMe. This event recurs on the 2nd Saturday of the month.
10 /Sunday
Ethnic Dining: Indian 1 PM. Join us for an Indian buffet at Hyderabad House Biryani Place located at 228 McHenry Rd. in Buffalo Grove featuring both Northern and Southern cuisines. This may be the premier Indian buffet in the Chicago area, as well as the offering the most variety, per a foodie website. One non-Mensan guest may accompany each member at the GOBS-subsidized price of $15, but additional guests will be charged the full cost of $30. Cash only, payable upon arrival. Reservations are requested no later than noon Friday, November 8th; attendance is limited. Contact Carey S. directly and include 1) the full name(s) of everyone in your party and 2) the Mensa membership status of each person. If you don't receive a confirmation e‑mail, try again. If you need to cancel, let Carey know ASAP since your fellow Mensans may be waitlisted and would love your spot. Please try to avoid cancelling in the last 24 hours, but if you must, contact Carey by mobile phone, which you may also use if you are lost or will be late. If possible, text first, then call, as he may not hear it ring. For more details, see the article in the November ChiMe or . For Ethnic Dining notifications, updates, and all the details, join the Mensa Connect Ethnic Dining Group.

Futures & Fantasies 2 PM. At our July meeting, F&F elected its November title — Destroyermen, vol. 1, Into the Storm, by Taylor Anderson (2008) 386 pages (suggested by John D.). "Fleeing from the disastrous Battle of the Coral Sea early in World War II, destroyer USS Walker seeks shelter in a storm and emerges into a world in which dinosaurs graze on the plains of Bali, the seas teem with monsters, and the two sapient species (one mammalian and one reptilian) are not human but are at war with each other. Lieutenant Commander Matthew Patrick Reddy must choose sides while preventing his advanced armament from being used for genocide. And then the Japanese navy appears!" See Steve's article in our October ChiMe . The discussion will take place in Conference Room G on the 3rd floor of the Oak Park Public Library, 834 Lake Street in Oak Park. Parking is under the building. Water, soda and light snacks acceptable. For more information about this event and/or SIG, contact Steve M., the SIG coördinator. F&F usually meets on the second Sunday of most months.

Metal Forging Class at Chicago Industrial Arts and Design Center (CIADC) 3:30 PM. This GOBS-subsidized event will held at 6433 N. Ravenswood Ave. in Chicago. We will be learning how to forge metal (blacksmithing) and will bring home the end product. CIADC is a 501(c)(3) non-profit, charitable organization with a mission to provide education, working access, and community for 3D object makers working in materials/processes requiring industrial workspace, specialized skill sets, and shop equipment. They offer programming for both Teens and Adults in Casting & Molding, Metalworking &smp; Forging, Technology & Design, and Woodworking, and cater to all interests and skill-levels! The class is limited to 8 people and the subsidized cost is $23/Mensan. Payment must be received no later than Sunday, October 27th to guarantee your spot but given the limited number of spots, it's best not to wait. Contact Karen G. to RSVP and to get payment instructions.
Event Not in ChiMe!!
11 /Monday

13 /Wednesday
Northern Exposure Dinner 6:50 PM. We return to this tasty favorite, Big Bowl, located at 215 Parkway Dr. in Lincolnshire (just off of Milwaukee Ave.). Old Chinese saying: sān gè héshàng méi shuǐ hē or "Too many cooks spoil the broth." The broth, however, is never spoiled at the fabulously successful "Lettuce Entertain You" Big Bowl. Join our crowd for feast and fun conversation! Please RSVP (no later than 10 AM) to our North Suburban Coördinator Mike B., so he can reserve a big enough table; also let him know if you need to cancel, even if it's last minute (by texting).
14 /Thursday
15 /Friday
Windycon 46: Space Opera 3 PM through Sunday. Windycon is Chicagoland's oldest science fiction convention. It will be held in Lombard. For all the details, visit their website. And please stop by the Chicago Mensa table!
Public Event!!
16 /Saturday
Conservatives Lunch 11:30 AM. Join other members of the Mensan cell of the Vast Right-Wing Conspiracy for lunch and "secret planning" at The Patio, 2780 S. Highland Ave. in Lombard. The Patio is on the NW corner of Butterfield and Highland, but you can enter only from Highland. Look for a table with a red Meetup sign. RSVPs appreciated. Open to non-Mensans; bring a conservative friend. For more info, contact Jim Z. the event coördinator.
Beverly Area Saturday Salon (B.A.S.S.) ~Noon. Spontaneous conversation in far SSW Chicago, approximate vicinity of 103rd St. & Western Ave. Please contact Rick E. the Beverly Area Coördinator, for this month's location and the exact time as well as more information; if e‑mailing, put "BASS" in the subject line. Usually recurs on the 3rd Saturday of the month, about midday.
Rainbow SIG Afternoon Social 2 PM. At the home of Jim and Dale's on the northside of Chicago. The theme will be the Democratic Presidential Primary. Each attendee will be given an opportunity to give their analysis of each candidate's pluses and minuses. At the end of the discussions, we will have 1) a straw poll and 2) a winner-take-all pool for predicting the eventual winner. Cost to enter the pool will be $5 and will be payable when the winner is announced in the summer. Sorry, no interest on the jackpot. Rules for a tie will be announced at the social. Members of the SIG who cannot attend the social are invited to send in their analyses of the candidates, their straw vote and their prediction of the eventual winner ahead of time. Soft drinks, coffee and tea as well as light foods will be provided. If you wish to bring adult beverages and/or other beverages and foods of your choice feel free but not obligated to do so. Tap/click here for the exact address and for contact information so you can RSVP. To find out more about this SIG, contact Jim, the SIG coördinator and co-host. Street parking, unlike most neighborhoods in Chicago, is generally available in the hosts' neighborhood.
South Bend Mensa Dinner 6 PM. Contact Gary L., the South Bend Area Coördinator of Fort Wayne, Indiana Mensa, for location information. His contact information is available here on our website or in the November ChiMe.
17 /Sunday

West Suburban Sundays Noon. Join us for Sunday lunch in the southwest suburbs at the Steven's Family Restaurant at 2393 63rd St. in Woodridge. The restaurant has a large variety of breakfast, lunch, and brunch items, reasonably priced. Please call John or Betty N. or e-mail John N., the West Suburban Coördinators, by 2 PM on Saturday, November 16th and let them know if you are coming. Their contact information is also in the November ChiMe. This event recurs on the third Sunday of the month.
19 /Tuesday

Near West-Southwest (WSW) Mensans Dinner 6:30 PM. This month, we enjoy dining at D. Thai, 7221 Ogden Ave. in Lyons (just west of Harlem). Spouses, dates, and significant others are also welcome. Reservations are appreciated. Please contact Jay V., so he can give the restaurant an accurate headcount. This event is usually recurs on the third Tuesday of the month.
21 /Thursday
Monocerotid Meteor Shower 10:15 PM through 11 PM. For the first time in more than two decades, the alpha Monocerotid meteor shower could morph into a meteor outburst, meaning that for a short period of time, you might be able to see several meteors a minute. Scientists say this outburst could resemble the one in 1995, which produced meteors at a rate of about 400 an hour.
23 /Saturday
Chicago Toy and Game Fair (ChiTAG) 10 AM It will be held on Navy Pier in Chicago. In addition to the ability to preview the many new toys and games exhibited, they feature a Young Inventor Challenge. For all the details, visit their website. You may be able to get a discount on tickets via Groupon or LivingSocial.
Public Event!!
26 /Tuesday
Tasty Tuesday Table Treats 7 PM. This month's dinner is at Amici Ristorante, 7620 N. Milwaukee Ave. in Niles (west side of Milwaukee Ave., between Touhy and Howard, just north of where Milwaukee crosses Harlem). Order whatever you wish; the GOBS Trust subsidy will be ½ of your total (food, drink, tax, and tip) up to $30 (maximum subsidy is $15). You are responsible for the balance, payable in cash only. I [Ken] will collect a $15 cash deposit per person prior to dinner. After dinner, the totals will be calculated, and you will either receive a refund or pay any overage. This event is open to Chicago Area Mensa members and one non-member guest and is limited to 10 people. I have the official list of attendees and will notify you if your reservation is confirmed or whether you are on a waiting list. RSVP to Ken L..
Sterling/Rock Falls/Dixon Dinner Cancelled. The group will be on hiatus until May. For more information or to get on our e‑mail list, please send a message to Dave L. our Rockford Area Coördinator. This event is usually scheduled on the last Tuesday of the month from May through October.
Event on Hiatus!!
28 /Thursday

Thanksgiving Day Luncheon 11:30 AM. Join us at the Bakers Square at 1319 W. North Ave. in Melrose Park for an informal get-together. In addition to the varied and tasty food, this low-key get-together should appeal to those Mensans either who are new to the Chicago area or who just want some stimulating conversation before going on to other activities. Cash only. RSVP by 11:30 AM on Wednesday, November 27th, but earlier is advised given the number of attendees is limited. You will get a response confirming whether you have a spot provided you have enabled Meetup messages; if you cannot receive Meetup messages, you will not be able to enjoy this luncheon.
Learn more & RSVP @ Chicago Mensa Meetup.
Meetup Event not in ChiMe!!
* * * * *
1 December
/

Sunday
ChiMe Activity Bulletin and Advertising Deadlines. Last day for these submissions to the January 2020 ChiMe.

ChiMe Editorial Deadline. Last day for editorial submissions to the January 2020 ChiMe. Please submit original articles, insights, puzzles, brain teasers, photographs, or short poems. Your fellow Chicago Area Mensans would love to hear from you.
November
1
2
3
4
5
6
7
8
9
10
11
12
13
14
15
16
17
18
19
20
21
22
23
24
25
26
27
28
29
30


Come and play at AGOG!
Jan. 24th – 26th