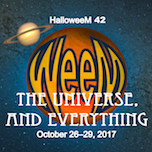 Preregistration is now closed but DON'T PANIC. Come to WeeM and register at the door. M‑Letter

and PAAG

are now available.
HalloweeM 42: WeeM, The Universe, and Everything
October 26 – 29, 2017
Preregistration is now closed. Come to WeeM and, if you haven't preregistered, please register at the door. If you preregistered but your payment was not received by October 12th, you will have to register at the door and no discounts for which you may have qualified will be honored.
Program Details*
Title
Wishful Drinking
Description
Carrie Fisher's one-woman HBO special from 2010 where she hilariously described her crazy life & family with slides, charts & props. The self-described "Bipolar Poster Child" shows that laughter is the best defense in life. Adult topics & language.
Presenter's Name
Robert Finnegan
Presenter's Bio
Bob Finnegan is an avid film buff with an impressive collection of documentaries and information on a wide range of topics. Favorites include illusions, animals, disasters, and especially movies and moviemaking, behind-the-scenes footage, and movie-star insights.
Tentative Date Time
Saturday, October 28th 1:30 PM
*Note: The information above is a draft provided by the presenter and may be different in the WeeM Booklet.
---
Deadlines
Registration - The deadline (October 12

th

) for advanced registration has expired. Join the fun at WeeM and register at the door if you haven't preregistered.
Excursions - The sign-up deadline for the Excursions was October 15

th

.

Vendor space

- The deadline to submit the contract was October 13

th

.

Lodging

- The deadline (October 20

th

) for the WeeM rate has expired.
Follow WeeM on Facebook and Twitter