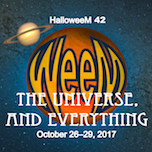 Preregistration is now closed but DON'T PANIC. Come to WeeM and register at the door. M‑Letter

and PAAG

are now available.
HalloweeM 42: WeeM, The Universe, and Everything
October 26 – 29, 2017
Preregistration is now closed. Come to WeeM and, if you haven't preregistered, please register at the door. If you preregistered but your payment was not received by October 12th, you will have to register at the door and no discounts for which you may have qualified will be honored.
Program Details*
Title
Friday Night Dance with DJ Kenya
Description
DJ Kenya is back to bring the party! From Halloween classics to oldies to pop to rock 'n roll, this dance floor will always have something to move you. Requests will be accepted and played based on song availability and danceability (yes, that's a word, 'cause we said so).
Presenter's Name
Kenya Hitchens
Presenter's Website
http://www.whiskeymoon.rocks

Presenter's Bio
Kenya is an experienced DJ, with a side career that started promisingly 15 years ago emceeing wedding receptions and private parties, but then quickly spiraled downward to DJ'ing Mensa dances.

She is eminently and definitively unqualified to host pub trivia, but she loves it so much that we let her run a quiz. Try to humor her; it makes her smile.

Kenya would like to add that if you're ever in St. Louis, please check out her band at WhiskeyMoon.ROCKS

.
Tentative Date Time
Friday, October 27th 10 PM
*Note: The information above is a draft provided by the presenter and may be different in the WeeM Booklet.
---
Deadlines
Registration - The deadline (October 12

th

) for advanced registration has expired. Join the fun at WeeM and register at the door if you haven't preregistered.
Excursions - The sign-up deadline for the Excursions was October 15

th

.

Vendor space

- The deadline to submit the contract was October 13

th

.

Lodging

- The deadline (October 20

th

) for the WeeM rate has expired.
Follow WeeM on Facebook and Twitter