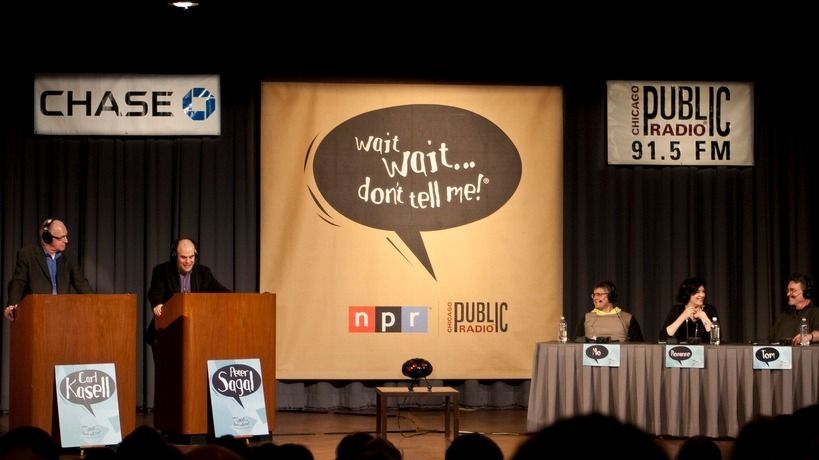 Wait Wait…Don't Tell Me! Live Recording
6:45 PM on Thursday, January 31
st
GOBS is sponsoring attendance at a live recording of the NPR Radio Show, Wait Wait…Don't Tell Me. This event will be on Thursday, January 31st, at 7 PM at the Chase Bank Auditorium, 10 S. Clark St. in Chicago. The recording starts promptly at 7:30 PM. The Auditorium is located on the lower level and the outside entrance is just south of the building on the Dearborn St. side by the CTA Blue Line Monroe Station. You can also access the auditorium from the south lobby (if open) and head to the southeast end of the lower level. All seating is reserved.
Wait Wait…Sold Out, But Wait Wait…
The full cost per ticket is $30. With the GOBS subsidy, the cost, for members of Chicago Mensa and up to one guest per member, is $15/person. The event is limited to 20 tickets — the first 20 tickets for which payment was received. However, in case anyone choses to cancel, you may request to be put on the Wait Wait…List. To be put on the Wait Wait…List, you must submit your payment. Your spot on the Wait Wait…List will be determined by when your payment was received. All payments are refundable for those who request one by 10 PM on Thursday, December 20th, and to everyone on the Wait Wait…List who doesn't end up getting tickets.
Payment & Cancellation Deadline was Thursday, December 20
th
Payments must be received no later than 10 PM on Thursday, December 20th, in order to be accepted on the Wait Wait…List. But since tickets sold out Wednesday, August 15th and the Wait Wait…List order is based upon payment receipt date and time, this deadline is more about cancellations than reserving your spot on the Wait Wait…List. All payments are refundable until this deadline. All payments received from those on the Wait Wait…List will be refunded to anyone who does not end up with tickets.
For further information, including instructions on how to get submit your payment to get the Wait Wait…List or on how to cancel, see the Meetup Event

. If you are not a member of the Chicago Area Mensa Meetup Group in Meetup.com

, send an e-mail to Ken L. and request information. If you do not have access to e-mail, you may call Ken.
On Thursday, January 31
st

at 6:15 PM

Picking up your ticket: Ken will be at the theater no later than 6:15 PM to distribute tickets. Your seat assignments will be determined when you arrive. The earlier you arrive, the more seat choices you will have. He will be distributing tickets until 7:15 PM when he'll head in and get seated. If you do not pick up your ticket by that time, you may lose your seat and will not get a refund. The recording starts promptly at 7:30 PM. For additional information on how to find him at the Chase Auditorium, Ken may send e-mails and may post comments in Meetup

. Make sure he has your e-mail address, especially if you are NOT a member of the CAM Meetup group.
Thanks for being our 169th visitor to the Wait Wait Event.