HalloweeM: Regional Gathering of Chicago Area Mensa
---
View our Pictures to see your fellow Mensa member enjoying our past HalloweeMs and to get an idea of what to expect.
History
HalloweeM began in 1975. Members of Chicago Area Mensa enjoyed attending other local groups' Regional Gatherings (RGs) and meeting members from other chapters. The late Helen Kupper and about 10 other members got together to discuss the type of RG Chicago Area Mensa should have: unusual, fun, well-timed, and attractive to members from other chapters. After much discussion, it was decided to have it in the fall. Someone came up with an idea of a Halloween celebration. However, to customize it they named the RG HalloweeM ("M" for Mensa, of course). Helen K. chaired the first four.
Over 30 years later, HalloweeM is the largest Regional Gathering in American Mensa - only the Annual Gathering attracts a larger crowd. Approximately 500 to 600 members and guests attend this meeting of the minds every year. A word of caution: Once you attend, not only will you have a blast, you'll be hooked on HalloweeM forever. And if you'd like to help make this 'WeeM an even bigger success, please plan to volunteer for a few hours and contact us this fall!
Lectures range across the arts, science, history, and lifestyle topics. Programs in years past included crime investigation, South American food, creative thinking, wine tasting, NASA and the Mars project, game theory, eating and working in Soviet Russia, squirrels, Britain's kings and queens, Scotch tasting, movie flubs, self-defense for women, kayaking, Star Wars, owls, cookie contest, Israeli folk dancing, Irish dancers, rock music, finance, funerals, jewelry making, nanotechnology, trivia contest, quinoa, whiskey tasting, urban paleontology, firehouses, and more. In recent years, Saturday night's "Pretentious Drinking" has been a favored feature. We also have at least one dance during the weekend as well as a book sale, vendor area, movies, games, contests, tournaments, an awards ceremony, a massive pun-filled costume contest, and of course, dazzlingly intelligent conversations.
Younger Attendees
Chicago Area Mensa strives to have something for everyone, and in that spirit, a Youth Track was added to the schedule several years ago. Kids between the ages of 8 and 14 can enjoy puzzles, games, and demonstrations in a room set aside just for them. This is not a babysitting service, but it sure helps enrich and entertain the minds of our youngest members and guests.
There is a kids-only costume party before the adult party. You can still bring your kids to the grown-up party, but for those of you who have younger children who might be overwhelmed by hundreds of strangers, who have children with early bed-times, or who simply want to avoid having to explain some of the puns, this will give kids a chance to dress up and compete for prizes at their own party. Then get yourself into costume and come to the main event.
Costumes!
The Friday night costume party is one of the things that sets the Chicago Area Mensa RG apart from all the others. Mensa grown-ups take dressing up to a new level. Costumes range from fanciful to funny to elaborate and elegant, but the thing for which Mensa members are best known are the pun and word-play costumes. In all of them, Mensa-style creativity is obvious. Bring your costume, sense of humor, and your wits, because our puns will keep you guessing and giggling all night long. View our pictures to see costumes from 'WeeMs past.
Offsite Excursions
Starting in 2012, we replaced our previous Friday-only "FriPlay" field trips with Excursions which take place on Thursday because people don't want to miss out on the fun that is going on at the hotel Thursday evening through Sunday. These additional-fee, sometimes free, events offer special experiences unique to HalloweeM. Past excursions included trips to a small airport, historic tours, local museums, walking tours, wine and olive oil tasting, laboratories, candy factories, vanilla plants, or hands-on classes like gun shooting, Indian/Chinese cooking, and glass blowing. All excursions are optional and super-fun, but do require you to preregister for WeeM!
Hospitality is open around the clock which enables attendees to visit with friends and make new ones. Couches are usually available near the book sale. This area also features outstanding and plentiful food and beverages (alcoholic and non-alcoholic). A full weekend registration includes two dinners, two lunches, and three breakfasts as well as snacks and a salad bar.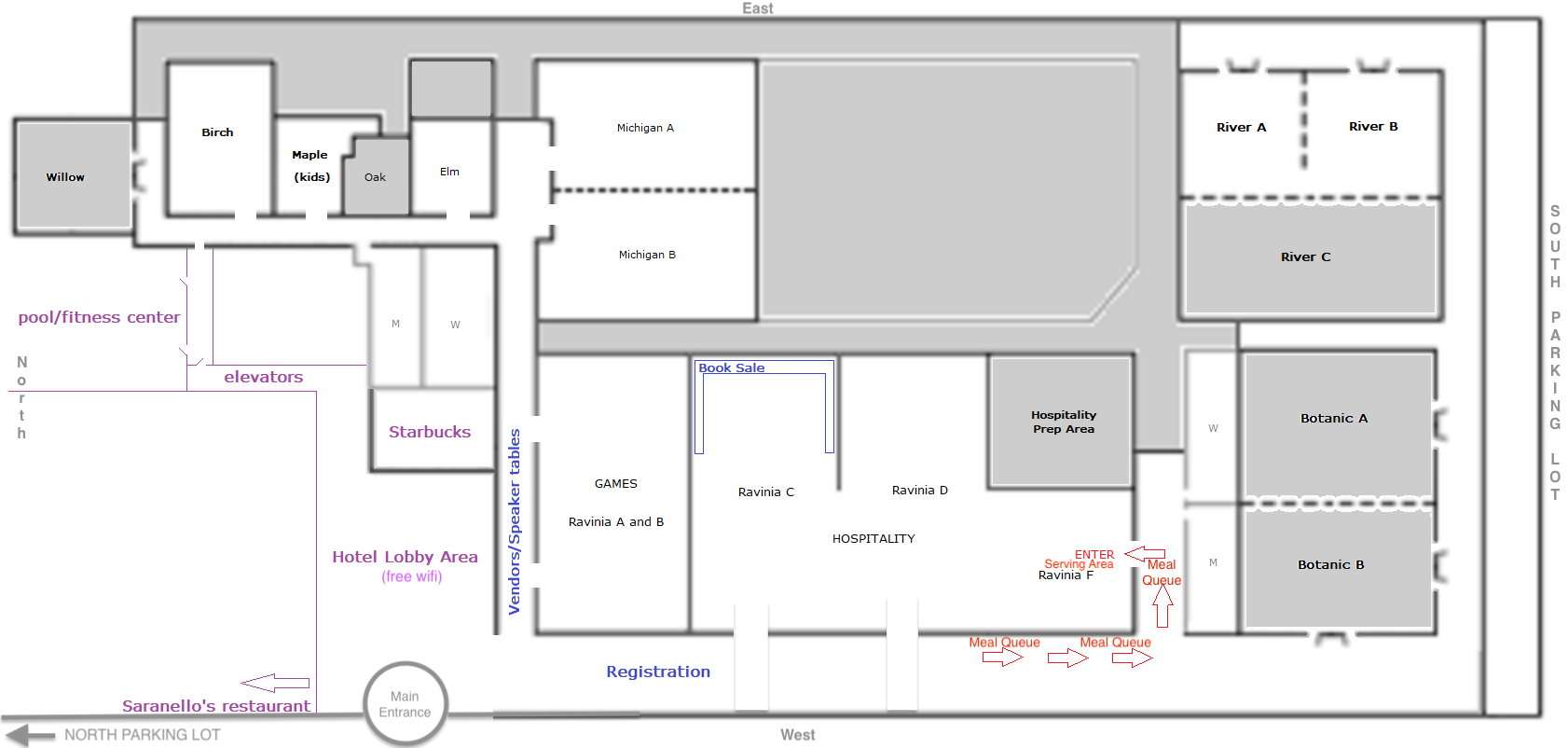 Click/Tap for larger image
Registration - Located in the west corridor near area "B" of the Ravinia Ballroom
24-hour Games Room - Located in areas "A" & "B" of the Ravinia Ballroom
Hospitality - Located in areas "C", "D" & "F" of the Ravinia Ballroom; this is also where the book sale is.
Note: this year the queue for meals will be one-way starting in the corridor to the south of "F" (no one will allowed to enter the serving area from the north) wrapping around, if necessary, into the west corridor (see red arrows on image above). Everyone will enter "F" via the south doors, get served their meal, and continue north into the rest of the Hospitality areas ("C" & "D"); no one will be allowed to go into the "F"ood service area from the north to get seconds — one must go back out into the west corridor and walk around the corner to use the south entrance.
Programs - Held in the Birch and Elm Rooms (northeast - top-left), as well as both the Michigan Ballroom (to the left of the kitchen on the map) and the River Ballroom on the southeast (top-right). (See PAAG (when it becomes available) for specific locations.)
Costume Contest - Held in the Michigan Ballroom.
Pretentious Drinking - Held in the Michigan Ballroom.
Tournaments - (see PAAG (when it becomes available) for specific locations).
Kids - Held in Maple Room.
Parking - north (farthest from meeting rooms; not shown on layout) and south (closest; includes handicapped) of the building. Avoid parking west of the building which is for the businesses/restaurants located in the area.
Thursday
Following our very successful experiment of 2008, we now start HalloweeM on Thursday afternoon. As the RG and the number of programs offered on Thursday evenings and Fridays have grown, we now consider the event to be a 4-day event. We serve dinner on Thursday night, usually after 7 PM, and there are also ample activities, seminars, tournaments, a salad bar, snacks, and beverages. Excursions are scheduled for Thursday afternoon for people who get into town early or have the afternoon free, although one must preregister for WeeM to participate. Registration usually opens around 3 PM.
Friday
A simple breakfast is offered between 8 & 9:30 AM whereas lunch begins around noon. Programming starts as early at 9 AM and goes throughout the day and includes seminars, tournaments, and other fun events. Registration begins around 10 AM for anyone who hasn't already picked up her/his badge on Thursday or is registering on site. Dinner is served in hospitality around 6 PM so people can eat before getting themselves and/or their children ready for the costume parade. After dinner Mensans change into costumes. The costume parade for the children commences at 6:30 PM and they will be escorted back to the kids' room afterwards if you have enrolled them. Then the adults costume parade follows around 7:30 PM. Programming begins again after the costume contest. Most years we offer Friday evening entertainment, like a DJ or live band for dancing. Either way, we'll keep you partying as late as you can stay up!
Saturday
Registration starts around 10 AM. Again, festivities begin around 9 AM, with a hot breakfast beforehand. As on Friday, there are game tournaments, seminars, and other fun things scheduled throughout the day. A full lunch and late-night snacks are served. As is our RG tradition, Saturday night dinner is "on your own" so you can dine with Mensa friends you haven't seen in a while! There are several restaurants within walking distance of the hotel and others a short drive away. Many of the ones nearby are listed on the Hospitality page and a few recommendations can be found on the Excursions webpage.
In the late evening, Pretentious Drinking (id required) will be held, when Weemsters often dress up, and sample all sorts of fancy liqueurs — snobbish extended pinkies are optional. For those who are too young or just don't care to drink, there's an Epicurean Experience in Hospitality. Usually these events are followed by a dance with a DJ and, optionally, karaoke. For non-dancers, there are other interesting things to do such as games, movies, social deduction games, and a few programs. The Photo Booth debuted in 2014 and includes lots of props so you take home some fun photos plus Mensa members can see them here on our website before year-end (see 2022, 2021, 2020, 2019, 2018, 2017, 2015, or 2014). At HalloweeM, the smart fun runs non-stop all weekend!

Is this a long weekend or what?
Sunday
Breakfast is offered at the usual time ~8 AM. At 9:30 AM, programming resumes with more speakers and activities. Chicago Mensa members can attend a business meeting at ~10 AM, followed by the awards ceremony around 11 AM. Also, there is a proctored test in the afternoon for any non-members who wish to join Mensa so encourage people to get tested; usually in October, American Mensa discounts the test by 50% provided one preregisters. Hospitality closes after breakfast so we can start packing up, and there are often leftovers that we give away to those that help with packing up and to a food charity. The event finally winds down around 4 PM, and you "don't have to go home, but you can't stay here." (Okay, you can hang around, but we'll put you to work helping us pack up!)
We invite you to attend HalloweeM, Chicago Area Mensa's amazing Regional Gathering (RG).