NEW YEAR, NEW YOU!
REDUCED PRICE TESTING IN JANUARY
For our January tests the fee will be only $39.99, a 33% discount. Don't delay!
Chicago Area Mensa Events
Connect With Us!
Chicago Area Mensa is also on Meetup.com

! Meetup.com is a networking site that allows groups to share photos, plan and advertise events, share information, and a whole lot more! It's easy to join the group by going to our Meetup page where you'll be asked to provide your membership information and, once verified, you'll be approved shortly.

And of course we're on Facebook

, also as a closed group.
Upcoming Events
Look at the December or January Activities Bulletin to see the many events hosted by Chicago Area Mensa members. Although we do not post private details of our events in the public section of this site, all the events are listed. Members, however, can access contact information

and are encouraged to see ChiMe

or Chicago Mensa Meetup

for further information. Occasionally an event coördinator misses the deadline for submitting the details to ChiMe, someone will organize an event after the deadline, or changes occur after publication. This website will be updated to reflect the most current information available whenever possible. Then members will be able to get the details via a link that will be provided. Members are also encouraged to sign up for the Event e‑mail list (chi-events)

to get e‑mails about upcoming events, including any that did not make it into ChiMe, and to get notified of any special events or last minute changes. All Chicago Mensa events are also posted on Chicago Mensa Meetup

. And because it is so easy to organize an impromptu event in Chicago Mensa Meetup

, members may decide to post something fun to do and then, in addition to the regularly scheduled events, any member who has joined Meetup will also get notified of the upcoming event.
Our next Monthly Gathering is on January 26th.
AGOG and the January Monthly Gathering will be held at the
Westin North Shore Hotel

,
601 N. Milwaukee Ave., Wheeling, IL 60090

The location of each MG is different.
Monthly Gathering
The most publicly accessible event is our Monthly Gathering. Usually we have a guest lecturer and then people mingle and/or play games while munching on some snacks. Beverages are also provided. The atmosphere is very informal and guests are welcome. If you're interested in joining and just want to meet some Chicago area Mensans, come to one of the Monthly Gathering. If you've decided to join, the Mensa test is usually administered before the gathering. For more information about this event, click here.
Our Annual Big Event
HalloweeM is the largest Chicago Area Mensa event. It is also the largest regional gathering (RG) in America with over 500 Mensans and family members in attendance. This spectacular, annual event occurs at the end of October, usually during the last weekend. Click on the HalloweeM! link to get more information about this annual gathering. The website reflects the lastest information available. The program offers something for everyone including children. Most people who attend become regular attendees because they have so much fun. If you want to be stimulated intellectually, if you like to dance, if you have a costume you'd like to wear, if you like to play games, if you like to learn, or, if you just want to have some fun, you should not miss HalloweeM. Even if you're more of an introvert or don't feel comfortable meeting new people in a crowd, volunteering will enable you to meet some of the nicest people. And check out the prior years' photographs to get an idea of what to expect.
Games?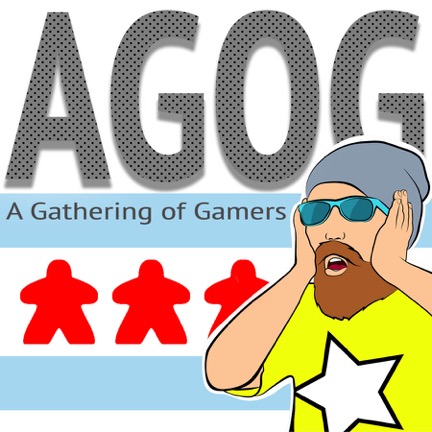 Games, games, and more games!
Only 42 days until AGOG. Join your fellow Mensans on January 25th – 27th for fun and games. The rates go up the day after tomorrow so register today to qualify for the best rate.
Love to play games? You're in luck. Many Chicago Mensans share this passion so there are opportunities galore. There are always games at the Monthly Gathering. Several regular monthly events hosted by members are focused on playing games. There is also AGOG (A Gathering of Gamers) which is held annually. It has been so popular, there is talk of having it more often. At HalloweeM, there is a dedicated 24-hour game room with over 250 games; some of the programs also target gamers including Trivia tournaments, logic puzzles, poker, and other challenges. At the Mensa Mind Games®

Mensans have also been able to play games not yet released to the general public and/or to give them the official Mensa seal of approval. And for the Trivia buffs, there's the annual Mensa CultureQuest®

, usually held on the last Sunday in April. So those who love to play and/or learn have many opportunities to indulge and be challenged.
Special Interest or Your Own Event?
There are a number of local Special Interest Groups (SIGs). Some have been active for decades. National also has over 100 SIGs

. However, if none of these spark your interest, members are free to start new SIGs as desired or to organize Mensa events reflecting their own interests. Members, if you are planning an event in February or later, and you'd like to get your event listed in ChiMe, on the calendar, in Meetup, and included in the Event E‑Mail List, please contact the Activities Bulletin Editor. Refer to the ChiMe Submissions for details, and, if your event is scheduled in February, please check the submission deadline for publication in the February ChiMe (you still have 18 days to submit it). Any event in ChiMe will appear on Chicago Mensa Meetup

. Missed the ChiMe deadline for your event? It's not too late to advertise an upcoming event for December or January. You can send out an e‑mail to everyone on the Event E‑Mail List

. And you can promote your event using Chicago Mensa Meetup

. If you use Facebook

, please notify the Activities Bulletin Editor so that all members know. So whether it's an impromptu event, something that's just come to your attention you think Mensans would enjoy, or you're just a procrastinator, you can still get the word out to try to get a group of your fellow Mensans together for a last minute event.
National and International Events
In addition to the Chicago Area Mensa events, there are national SIGs that also organize events, outings, and trips. These are listed on the American Mensa SIGs

. Many other local groups also have Regional Gatherings (RGs), and American Mensa and other countries have Annual Gatherings (AGs). A listing of upcoming events can be found on the American Mensa Events Calendar

.
More Information?
If you'd like more information about our events or our organization, contact the Membership Chair. If you've decided to join and need to get tested, please refer to the test page for dates, locations and contacts.
Thanks for being our 13,727th visitor to our Calendar of Events.