HalloweeM 45: The Vinyl Frontier
October 29 – November 1, 2020
Check this site in August for information about our 45th WeeM!
Program Details 2019*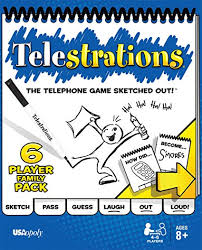 Title
Telestrations Tournament
Description
If you've ever played Telephone, and if you've ever played Pictionary, and if you've ever wondered what it would be like if those two games met at a games convention, and dated and fell in love and got married and had a game-child and then they grew tired of each other and started playing other games and eventually they found out and they went to counseling and it was of no use and they had an amiable divorce though the relationship was strained but they kept it pretty much together for their game-child which they named Telestrations and, uh, not sure where I was going with this…

Anyway, come and play. It's fun.
*Note: This program was offered last year and may or may not be offered again this year.