Chicago Area Mensa Presents . . .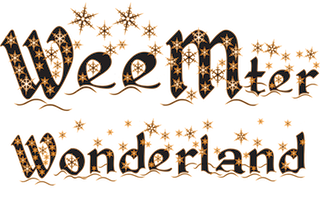 Online registration is now closed. Come to WeeM and register at the door. This site will be updated with the latest information as it becomes available. Expect to see more details about WeeM as we get closer to the event. The M‑Letter, Program Booklet, and latest Programs At A Glance (PAAG) are now available. You had a great time in years past and this year promises to be more wonderful than ever.
HalloweeM 39: WeeMter Wonderland
October 30 – November 2, 2014
---
Join us for four days of RG fun where the cool smart party — including everything you expect from WeeM ... and even more!
Multiple tracks of programs to keep you intellectually stimulated
An RG on the grandest scale, with over 500 attendees
Lavish and plentiful hospitality with lots of room to socialize & chill
A huge game room and tournament offerings including Poker and Werewolf
Annual favorites like the pun-tastic Friday night costume contest and Saturday night Pretentious & Prohibition Drinking
Two dances
And … an excellent hotel!
Online registration is now closed. Come to WeeM and, if you haven't pre-registered, please register at the door. If you haven't already done so, make sure to submit your payment soon. If your payment is not received well before WeeM starts, you may have to register at the door.
There's snow RG like this! What's more magical than going to a place that stimulates both your mind and senses?
Nothing, that's what! Enjoy rousing debates and thought-proving points of view at the 39th HalloweeM! Early bird registration is open, so register now to get the very best rates.
Come to WeeM to have fun with over 500 fellow Mensans and their guests. Play games, attend seminars, dance, talk, eat, drink, volunteer, and laugh. Check out the photos to see what happened in past years. Once you come to WeeM, you'll be under its magical spell, returning every year.
The links at the left will take you to general information about HalloweeM and specific information (as it becomes available) about this year's gathering – WeeM registration, hotel reservations, programs, and much more. Return often to see what's brewing in our great caldron or join our WeeM-Notify mailing list to get email updates (no more than one a month, except in October).
Excursions
Excursions are planned for Thursday (no one wants to miss the fun at the hotel on Friday) — there's a great Chinese Cooking lesson where you also enjoy the results and there's a tour of the Northeastern Illinois Regional Crime Lab for all you CSI fans; space is limited. In years past, we've visited Devon's Desi corridor, created stained glass works-of-art, shot guns, blown glass, enjoyed ethnic cooking classes, and visited architectural gems. Our coördinator will also provide you with information for a self-guided walking tour if you wish to venture into the city.
The Best Place to Chill!
We continue to be excited about the venue. The Westin Chicago North Shore Hotel in Wheeling has a lot to offer. It hosts other events we know of with comparable size and similar people, and we have worked with some of their senior staff as well as the people behind the scenes who do an amazing job helping us volunteers to keep things running smoothly. The hotel room block is set up and ready for your reservations. Problems with reservations may be forwarded to The Hotel Liaison for timely resolution.
Won't someone think of the children?
Bring the kids! Chicago has been working with several dedicated volunteers to create a kids' track at our functions. We've ironed out the details during our Monthly Business Meetings during the year and are pleased to offer you and your kids a wide variety of activities throughout the WeeM weekend. Babysitting will be offered during certain events, and WeeM speakers will deliver programs tailored for the kids.
Are You Naughty or Nice? The Best Flakes …
You may not see them, but you see what they do. Volunteers are the caretakers of our amazing, four-day event! They earn collectible WeeM pins and entries into the Volunteers' Raffle. They are adored by WeeM ghosts and goblins, and are protected from evil spells. So why not volunteer now?
Help The Economy!
Check out the Shopping offerings that you can can expect at WeeM, including WeeM logo items, and our annual book sale to benefit our Gifted Youth program! Bring your own books that are just taking up room and collecting dust, and allow us to sell them for this charitable cause.
---
That Newfangled Social Media
---
Deadlines
Registration - The deadline (October 15th) for advanced registration has expired. Please come to WeeM and register at the door.
Excursions - The sign up deadline for excursions was October 26th.
Vendor space - The deadline to submit the contract was October 15th.
Lodging - The deadline (October 10th) for the WeeM rate has expired.