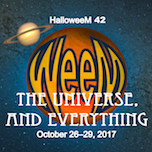 Qualify for discounted WeeM rates by registering today. Book your room by October 8th and request the WeeM rate of $127. Sign up for the Excursions now!
HalloweeM 42: WeeM, The Universe, and Everything
October 26 – 29, 2017
Program Details*
Title
Leadership Lessons from the Street
Description
What do first responders have in common with high-performing leaders in the business world? Both have to remain calm under pressure. Both must deliver in the clutch and make critical decisions on the fly. Both must motivate and empower their teams in an ever-changing environment. Learn how you can apply these tough lessons on leadership and teamwork learned while working the street to your own business or life.
Presenter's Name
Eric Shipman
Presenter's Bio
Eric Shipman is a suburban Police Commander with almost 25 years of experience. His assignments have included patrol, investigations, gangs, narcotics and command. He is a graduate of DePaul University, Northwestern University's certificate program at the School of Police Supervision and the prestigious FBI National Academy in Quantico, Virginia.
*Note: The information above is a draft provided by the presenter and may be different in the WeeM Booklet.
---
Deadlines
Follow WeeM on Facebook and Twitter