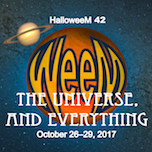 Qualify for discounted WeeM rates by registering today. Book your room by September 22nd and request the WeeM rate of $127. Sign up for the Excursions now!
HalloweeM 42: WeeM, The Universe, and Everything
October 26 – 29, 2017
Program Details*
Title
What is Cryptozoology and Why It Matters
Description
Cryptozoology is the study of animals unrecognized to exist by science but might actually exist, such as Bigfoot or the Loch Ness Monster. While not inherently a scientific field, cryptozoology can be of benefit to modern day zoology. Unfortunately the field is often mocked due to the unusual nature of the creatures that are investigated. Colin Schneider, one of the youngest cryptozoologists in the world, will make a case for the legitimacy and significance of the field through his five years of experience and studies. Skeptics and enthusiasts are all welcome.
Presenter's Name
Colin Schneider
Presenter's Website
http://paranorm101.blogspot.com

Presenter's Bio
Colin Schneider is one of the youngest active researchers in the United States, at only 16-years-old. He has been involved in cryptozoology and ufology since he was 13 after he visited the International Cryptozoology Museum in Maine. A frequent attendee of conferences about the unexplained, Colin lectures at numerous events around Ohio and Pennsylvania. He also is a regional representative for the Centre for Fortean Zoology and host of the Crypto-Kid radio show on WCJV Radio.
*Note: The information above is a draft provided by the presenter and may be different in the WeeM Booklet.
---
Deadlines
Registration - Discounts for advanced registration are available through October 12

th

. (Note: Full payment is required by the appropriate deadline to qualify for any discount).
Excursions - Sign up for either of the Excursions before October 12

th

. Since space is limited, the deadline may move up depending upon demand.
Lodging - The hotel is offering a WeeM rate of $127 through September 22

nd

, subject to availability. If the hotel block is full, please contact our WeeM Chair who will try to expand the block.
Follow WeeM on Facebook and Twitter