Cheap Eats:

Shalada Bortukal
Orange Salad
In March of this year, fellow Mensan Barb Pohl and I had the pleasure of traveling to Morocco. The only rough part of the trip was getting there—we were sidelined by an ice storm in New York. But we arrived in Morocco only a day later than planned and the wonder of this fabulous land instantly erased all frustration of the cancelled flights.
As we traveled from Casablanca to Rabat, where we would meet up with our tour group, we were amazed at the beauty of the countryside: incredible greenery, fabulous wildflowers running riot in fields and on hillsides, olive groves, lush farms, and rows of trees interspersed between small towns. We followed the curve of the country, the Atlantic Ocean off to our left, and finally arrived in the medieval city of Rabat just after noon. We were just in time for lunch—a splendid meal of fresh, grilled sardines and other local fish at a seaside restaurant with a view of the beach and the city wall. Then it was off for a hike through the labyrinthine medina and serene Kasbah of Rabat, wonderfully ancient places that were once home to the fearsome Barbary pirates.
That night we had our welcome dinner. Returning to the medina, we walked through long, narrow alleys, where we were met by a tall man in red who wore a fez and carried an old, brass lantern. He guided us to a magnificent old mansion with high arches, wonderful tile work, and vaulted ceilings. Lavishly embroidered sofas surrounded low tables (which we were to learn was the classic and almost ubiquitous dining arrangement in Morocco, even in private homes.)
The meal started with a "salad" course: potato with cilantro, cucumber with tomato, spinach, eggplant, beets with onion and cilantro, fava beans, and peppers with onions. Next, we were served the famed Moroccan specialty bestila, a pigeon pie with a flaky phyllo crust, dusted with powdered sugar and cinnamon. Then came briwat: small, fried pastries filled with meat, followed by three tagines—Morocco's signature roast/stew. One was lamb with raisins and almonds, another was beef with artichoke bottoms, and one was chicken with preserved lemon and preserved brown olives. It was a splendid feast.
The meals were wonderful everywhere, but there was more to Morocco than food. We were off the next day for more adventures. We visited Meknes, one of the four imperial cities and the site of a fabulous market. We admired Moulay Idris, a cluster of white buildings perched among green hills that was the first Arab city in Morocco. We toured Volubilis, the Roman city from which the Romanized Berber king, Juba II, and his queen, daughter of Cleopatra and Marc Antony, ruled the kingdoms of Numidia and Mauritania. The ruins were fabulous, and our guide pointed out that the ancient Roman olive oil presses still abundant at the site are virtually identical to the olive oil presses being used in rural areas of Morocco today.
Next, we reached Fes, the center of crafts in Morocco, famous particularly for its gorgeous blue pottery. But more fabulous still is Fes itself. The medina, or medieval Arab city, is like another world—and another time. This World Heritage Site of 64 square miles is home to 500,000 people and 7,000 donkeys and burros. It's an incredible, ancient labyrinth—where you must have a guide, as there are 9,000 alleys, 850 of them dead ends.
The medina is a heaving sea of humanity. Everyone is going somewhere, carrying something, making something, or selling something. Children carry dough to the communal ovens for baking (½ dirham per loaf, to have your bread baked). Students dash into the Koranic schools. Merchants cry to clients. Merchandise teeters in great piles, hangs from rafters, spills out of doorways. Heavily laden donkeys complicate transit through the narrow, crowded alleys. We listened for the cry of "balak, balak," the warning that a donkey is being driven through, usually by someone whose view of the alley is blocked by the donkey's burden.
Into the dyers' area, where wool, cotton, and silk were being transformed. Then, into the copperers' area, where small copper pots and utensils are for sale and giant copper pots, designed for great feasts, are available to rent. Through the cloth, bead, gold, antique, and "stuff" areas, then on to the rug weaver's shop. Here, we were given time to shop. It is, as our guide, Aziz, reminds us, the best way to help the local economy.
We went through the carpenters' quarter and finally to the tannery. As we climbed the four flights of stairs to the roof of the building, we were handed mint sprigs. I wondered at first what they were for, but knew their use instantly upon walking out to where we could see the tanneries—the mint was to help us cope with the smell. Pigeon droppings are used in the leather-tanning process, because they contain ammonia. As a result, the tannery is rather odoriferous. From the top of the leather store, we had a great view down onto the broad yard where hides are tanned. The center of the yard is a rough mosaic of large earthen vats. Men moved around the yard by balancing along the wide rims of the vats. On the scaffolding surrounding the vats, animal skins were drying in the sun. The leather tanned here is cow, goat, sheep, and camel. It might have been a different era entirely, except for the satellite dishes perched on the surrounding mud-brick houses.
This day was a highlight of the trip—but not the only one. When we left Fes, our next destination was the Sahara, via the Middle Atlas Mountains. We drove along roads built by the French Foreign Legion! We dropped down into the Tafilalt Valley, the largest oasis in Morocco (kind of like the Grand Canyon filled with date palms), and finally went off-road.
As we reached our first camp, we noticed a stately Touareg standing on a high dune, his blue robes fluttering in the evening breeze. Aziz told us we would see more like him later. They are no longer the fearsome corsairs of the desert, but now guides through the dunes and sellers of fossils (it seems Morocco is largely composed of fossils). We spent three nights camping in the Sahara with its so many delights: the incredible majesty of the undulating red-gold dunes, the Berbers, and Touaregs, and an overwhelming star show at night. We visited a nomad family in their tent and even got to spend a morning traveling across the desert by camel.
We really did far too much for me to even hint at it all. (My typed notes from the trip are 50 pages long. We saw and did an incredible amount of things.) We visited farms, schools, and private homes, met locals, had our hands hennaed. We saw, too, an astonishing variety of scenery—desert, ancient town, oasis, snow-capped mountain, pine and cedar forests, verdant farms, gorges, and seashores. No wonder this is a popular place to make movies; everything you need is within a day's journey.
We stayed in Tineghir and Ourzazate. We drove though the Valley of Roses and explored the magnificently ancient Aït Ben Haddou, a mud-brick city that was used as a set in, among other films, Gladiator. We finally ended our journey in Marrakech, a wonderfully cosmopolitan city that is very Moroccan, but still sufficiently Westernized to make you feel like you'd begun your trip home. We did all the things one is supposed to do in Marrakech. We visited the famous museums, palace and gardens, ate local specialties (mishoui, a pit-roasted, butter-basted lamb you eat with your hands, dipping it in freshly ground cumin and coarse salt and chicken tagine au citrons at Dar si Aïssa), rode around town in caleches, perused the souks, and hung out in the fabulous town square, the famous Jemaa al Fna, where snake charmers and colorfully dressed watersellers vie for one's attention. It was great.
Our farewell dinner was in a palace turned into a restaurant. Aziz gave us a little speech about how much our coming meant to Morocco, and how every penny we spent would help the economy and help keep the old crafts alive. Tourism is Morocco's future, and he hoped we would be taking good stories home with us. No problem there!
Our feast began with brionates (fried, meat-stuffed pastries) and an array of Moroccan vegetable salads. For our main course, we were served traditional Marrakech pigeon pie (whole pigeon baked in phyllo pastry with onions and cinnamon), tagine of lamb with tomato and onion, and a vegetarian couscous. Dessert was the orange salad reproduced below. I felt certain that this is what the Greek gods were eating on Olympus. The rosewater lifts the oranges to an entirely new plane. Surprisingly, for a dish so ambrosial, this is easy to make. And I have never served this where someone didn't, between "ooohs" and "aaahs", comment that they would never have imagined these flavors being so good together. Enjoy.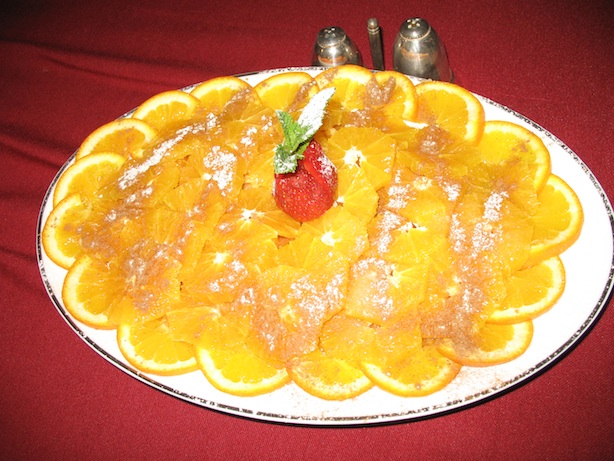 Shalada Bortukal
(Orange Salad)
4 navel oranges
2 Tbsp. rosewater
3 tsp. granulated sugar
½ tsp. ground cinnamon
Slice the oranges thinly and spread on a platter (in stages if you don't have a large platter). Sprinkle rosewater over the oranges, then the sugar. Finally, sprinkle the cinnamon over the oranges. Let chill for about 30 minutes. Toss lightly before serving. (To make a presentation, chill the oranges with sugar and rosewater then sprinkle on the cinnamon when serving. You can also garnish it with a mint sprig.)
---
Note:
Get really nice oranges. The ones sold in the giant bags are usually not as juicy or flavorful as those sold individually. Most Indian grocers, international stores and Internet sites sell rosewater.