The organizers of the events listed on this calendar have expressed willingness for members elsewhere in the world to join in. Please don't give them a bigger crowd than they can handle, and do be careful about time zones. The displayed time zone is GMT! If you add them to your own calendar, the time zone should convert to your specified time zone.
To have your virtual event added to this calendar, contact Matt C., the CAM International Calendar contact.
There may be other virtual events, as well as in-person events, which may be of interest to CAM members, hosted by various local groups listed on the American Mensa Calendar of Events.
31/ Wednes­day
Romantic Musical Comedy in Chicago 1 PM. I have no idea of how Ernest Shackleton's Endurance Expedition could have inspired a musical comedy, but I have to find out. The musical is entitled Ernest Shackleton Loves Me. The performance is at the Ruth Page Center for the Arts at the Porchlight Music Theatre, 1016 N. Dearborn St. in Chicago.

The following was copied from the Porchlight's internet site:
"Ernest Shackleton Loves Me is the critically acclaimed new musical comedy with a tongue-in-cheek script by Tony Award-winner Joe DiPietro+ (Diana, Memphis, All Shook Up). In this wildly inventive and romantic adventure, a sleep-deprived single mom who makes her living as a video game music composer is contacted across space and time, via a crossed connection on her cell phone, by the famous early 20th century polar explorer Ernest Shackleton+ while he is stranded on an iceberg in the Antarctic in the early 1900s. Inspired by her music, he shares his epic journey with her and, together, they overcome the odds in a timeless, and very funny, musical romance for the ages. In 2017, Ernest Shackleton Loves Me was named the Best New Musical by the Off Broadway Alliance."

Advance tickets purchased online range from $25 to $57 plus a $5 service fee. Some tickets may be available for $25 by calling the box office at noon on the day of the performance. I [Ken L.] do have an extra $57 ticket in the center of the first row in the balcony, seat AA9.

Merely RSVPing on Meetup (preferred) will not get you a ticket. If you RSVP and if people are interested, I can arrange a meal before or after the performance. If not on Meetup, email Ken L.. Let him know if you'd be interested in a meal together or not.
Meetup Event Not in ChiMe!!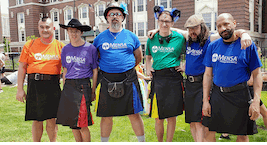 52nd Chicago Annual Pride Parade held Sunday, June 25th, the last Sunday of the month. The CAM contingent is sponsored by the Rainbow SIG. The Rainbow SIG will be marching and riding on their float again this year in the Chicago Annual Pride parade. There will also be a GOBS-subsidized meal nearby after the parade. For all details, visit the Parade Info webpage or see the ar­ticles in the April ChiMe, May ChiMe, or June ChiMe. Register by Thursday, June 15th.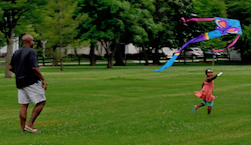 Chicago Area Mensa Summer Picnic. The picnic will be held at 11 AM on Saturday, July 22nd in Elmhurst. Find out the details and/or register in advance so there's an accurate count ensuring there'll be enough food for everyone. There's a discount if you pay in advance. Register by Wednesday, July 19th. Join us for a fun time outdoors.
* * * * *
1 June/ Thurs­day
ChiMe Activ­ity Bulletin and Ad­vertising Dead­lines. Last day for these submissions to the July ChiMe. Interested in organizing and hosting a virtual or in-person event? There's bound to be an activity or a restaurant you want to try, but you just want some other people to experience it with you. So invite your fellow Mensans. Find out how by visiting our guide to hosting events.

ChiMe Editorial Dead­line. Last day for editorial submissions to the July ChiMe. Please submit original ar­ticles, insights, puzzles, brain teasers, photographs, or short poems. Your fellow Chicago Area Mensa members would love to hear from you.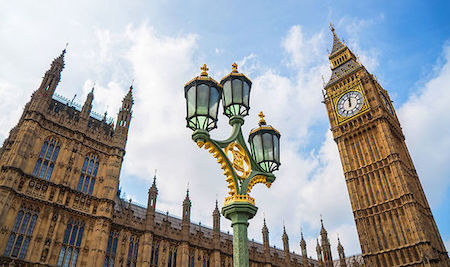 Conversation with London Mensans 8 AM. Join a video chat with our kin from across the big pond in London at 2 PM BDT. I [Carey] participated previously, along with a few other CAM members, and had a very nice chat with some of our "siblings" in the London area. RSVP (via Meetup preferred) to local host Carey S. to receive the Zoom sign-in information. The London host is Ian David Moseley.
Virtual Event!!
Activities Bulletin
May 2023
May
1
2
3
4
5
6
7
8
9
10
11
12
13
14
15
16
17
18
19
20
21
22
23
24
25
26
27
28
29
30
RSVPs - Always contact the CAM event host as specified in the event details — e-mail , phone , text , or Meetup .
Chicago Mensa Meetup - All our events are listed; see who signed up, get notifications, and add the event(s) to your personal calendar. Check out the May calendar.
Facebook - The following CAM group has its own closed Facebook group which may have events not listed here nor on Meetup (contact them to join):
Chicago Mensa Meetup - All our events are listed; see who signed up, get notifications, and add the event(s) to your personal calendar. Check out the May calendar.
Facebook - The following CAM group has its own closed Facebook group which may have events not listed here nor on Meetup (contact them to join):