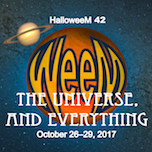 Preregistration is now closed but DON'T PANIC. Come to WeeM and register at the door. M‑Letter

and PAAG

are now available.
HalloweeM 42: WeeM, The Universe, and Everything
October 26 – 29, 2017
Preregistration is now closed. Come to WeeM and, if you haven't preregistered, please register at the door. If you preregistered but your payment was not received by October 12th, you will have to register at the door and no discounts for which you may have qualified will be honored.
Program Details*
Title
San Diego Comic-Con: A Journalist's Eye View
Description
Each year 150,00 people descend on San Diego for Comic Con International (SDCC) is largest Pop Culture gathering in the world. Movie studios, TV networks, publishers and toymakers bring out their latest and greatest side by side with artists, graphic designers and more to the delight of fans, cosplayers…and journalists. Barbara Barnett has donned her press badge for the past five years, interviewed the stars, been to the parties, hazarded drones, monsters and zombies to cover SDCC. Join her at this year's WeeM as she takes you through the journalist's looking glass and into Comic-Con.
Presenter's Name
Barbara Barnett
Presenter's Website
http://BarbaraBarnett.com

Presenter's Bio
Barbara Barnett is author of the Bram Stoker Award-nominated novel The Apothecary's Curse

and Chasing Zebras: The Unofficial Guide to House M.D.

Barbara is also executive editor of Blogcritics magazine. She has been a featured speaker and panelist at numerous professional writers conferences, fan conventions, and Mensa's HalloweeM. She has just finished drafting her new novel, Apothecary's Curse: The Alchemy of Glass.
Tentative Date Time
Friday, October 27th 4:30 PM
*Note: The information above is a draft provided by the presenter and may be different in the WeeM Booklet.
---
Deadlines
Registration - The deadline (October 12

th

) for advanced registration has expired. Join the fun at WeeM and register at the door if you haven't preregistered.
Excursions - The sign-up deadline for the Excursions was October 15

th

.

Vendor space

- The deadline to submit the contract was October 13

th

.

Lodging

- The deadline (October 20

th

) for the WeeM rate has expired.
Follow WeeM on Facebook and Twitter