Qualify for discounted WeeM rates by
registering
today.
Book your room
by October 10
th
and request the WeeM rate of $117.
HalloweeM Floor Plan
The Westin's floor plan (below) is of the area of the hotel to the south of the lobby. The top of the floor plan is east. The area labeled "Ravinia Ballroom Pre-Function" is the hallway area that runs along the windows and continues to the left to the lobby.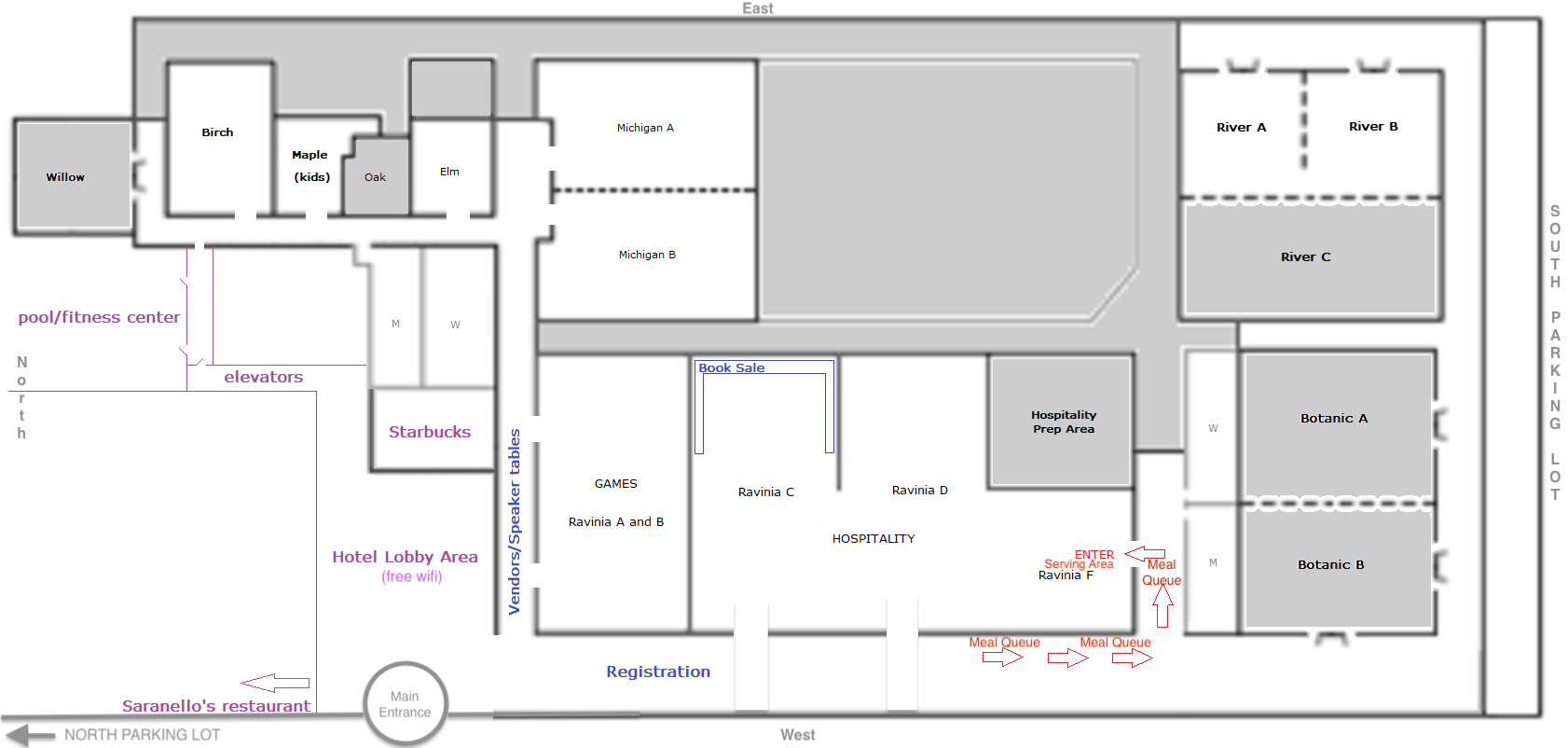 Getting Around
Registration - Located in the lower area "B" of the Ravinia Ballroom
24-hour Games Room - Located in area "B" of the Ravinia Ballroom
Hospitality - Located in areas "C", "D" & "F" of the Ravinia Ballroom
Programs - Held in the Willow, Birch, and Elm Rooms, as well as the Lake Michigan & Botanic Ballrooms
Costume Parade - Held in Lake Michigan Ballroom.
Dances & Prententious Drinking - Held in Botanic Ballroom.
Tournaments - Held in area "A" of the Ravinia Ballroom & Botanic Ballroom .
Kids - Held in Maple Room.
Parking - north (not shown on layout) and south (including handicapped) of the building. Parking west of the building is for the businesses/restaurants located in the area.
Deadlines
Registration - July 14

th

is the last day to qualify for a great discount. Discounts for advanced registration are available through October 18

th

. (Note: Full payment is required by the appropriate deadline to qualify for the discount for which you registered. )

Vendor space

- Please complete and submit a Vendor Application by October 20

th

. If you have any questions after reviewing the Vendor Flyer containing all the details, contact the WeeM Vendor Liaison.
Lodging - The hotel is offering a WeeM rate of $117 through October 10

th

, subject to availability. If the hotel block is full, please contact our WeeM Chair who will try to expand the block.
Follow WeeM on Social Media