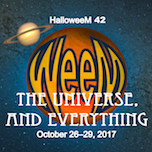 Qualify for discounted WeeM rates by registering today. Book your room by September 22nd and request the WeeM rate of $127. Sign up for the Excursions now!
HalloweeM 42: WeeM, The Universe, and Everything
October 26 – 29, 2017
Program Details*
Title
GenY Meet & Greet
Description
The GenY SIG is for Mensa members born on or between the years of 1976-1996. Come to this session to meet the other "don't-call-us-millennials" that comprise Mensa. Hear about the super secret AG activities for GenY-aged members, get involved in organized and impromptu shenanigans and learn the location of our very own party suite. (You'll receive the official invite at this session.) If you can't make it, never fear. Approach and introduce yourself to any GenY member at the AG and see if you can get the lowdown. Or you know, just join the Facebook Group GenYMs.
Presenter's Name
Henri Buccine-Schraeder
Presenter's Bio
Henri Buccine-Schraeder is a research coordinator at Rutgers Center on Public Security and is a current PhD student at Rutgers University. Her research interests include sex offender policy, policing interventions, and spatiotemporal analysis. Henri is also the Membership Officer for the AMC, the National Coordinator for GenY, and the Region 2 GenY Co-Coordinator.
*Note: The information above is a draft provided by the presenter and may be different in the WeeM Booklet.
---
Deadlines
Registration - Discounts for advanced registration are available through October 12

th

. (Note: Full payment is required by the appropriate deadline to qualify for any discount).
Excursions - Sign up for either of the Excursions before October 12

th

. Since space is limited, the deadline may move up depending upon demand.
Lodging - The hotel is offering a WeeM rate of $127 through September 22

nd

, subject to availability. If the hotel block is full, please contact our WeeM Chair who will try to expand the block.
Follow WeeM on Facebook and Twitter