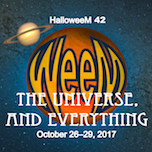 Qualify for discounted WeeM rates by registering today. Book your room by October 8th and request the WeeM rate of $127. Sign up for the Excursions now!
HalloweeM 42: WeeM, The Universe, and Everything
October 26 – 29, 2017
Program Details*
Title
Friday Night Movie
Description
"Guardians of the Galaxy Vol. 2" - Chris Pratt & Zoe Saldana are back leading the inter-species team of space warriors. Plus the best extras from the Blu-ray. PG-13, 2 hr, 16 min
Presenter's Name
Robert Finnegan
Presenter's Bio
Bob Finnegan is an avid film buff with an impressive collection of documentaries and information on a wide range of topics. Favorites include illusions, animals, disasters, and especially movies and moviemaking, behind-the-scenes footage, and movie-star insights.
*Note: The information above is a draft provided by the presenter and may be different in the WeeM Booklet.
---
Deadlines
Follow WeeM on Facebook and Twitter