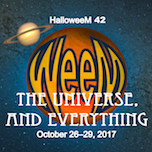 Qualify for discounted WeeM rates by registering today. Book your room by October 8th and request the WeeM rate of $127. Sign up for the Excursions now!
HalloweeM 42: WeeM, The Universe, and Everything
October 26 – 29, 2017
Program Details*
Title
Translating Bankese to English
Description
What's the point of the new chip debit cards? What do all those banking acronyms mean? What is the Patriot Act? What other acts impact the banking experience? Emily will be presenting a short PowerPoint presentation to discuss these questions and more. The second half will be a question and answer session, so remember to bring all of your banking and financial questions!
Presenter's Name
Emily Bialas
Presenter's Website
http://www.royal-bank.us

Presenter's Bio
Emily has over ten years of banking experience, from the banks "to big to fail" to the small community banks. She has In the years, she was primarily a branch manager, and is currently employed by a tiny community bank in the Chicagoland area as the Retail Manager for the West.
*Note: The information above is a draft provided by the presenter and may be different in the WeeM Booklet.
---
Deadlines
Follow WeeM on Facebook and Twitter