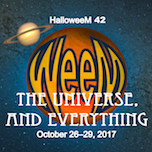 Qualify for discounted WeeM rates by registering today. Book your room by October 8th and request the WeeM rate of $127. Sign up for the Excursions now!
HalloweeM 42: WeeM, The Universe, and Everything
October 26 – 29, 2017
Program Details*
Title
Overcooked Tournament
Description
Based on Overcooked video game (look it up!

). Form teams of four and find out if have what it takes to staff the kitchen at the Big Bang Burger Joint. After a 30 minute orientation, each team will come back individually for a 15 minute experience. How well do you coördinate, communicate and cooperate under hectic conditions?
Presenter's Name
Oriel Maximé
Presenter's Bio
What to say that you don't already know? I'm your garden variety geek, with a special love of puzzles, games, and hectic cooperative experiences. Come out and see this year's experiment!
*Note: The information above is a draft provided by the presenter and may be different in the WeeM Booklet.
---
Deadlines
Follow WeeM on Facebook and Twitter