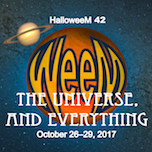 Preregistration is now closed but DON'T PANIC. Come to WeeM and register at the door. M‑Letter

and PAAG

are now available.
HalloweeM 42: WeeM, The Universe, and Everything
October 26 – 29, 2017
Preregistration is now closed. Come to WeeM and, if you haven't preregistered, please register at the door. If you preregistered but your payment was not received by October 12th, you will have to register at the door and no discounts for which you may have qualified will be honored.
Program Details*
Title
My Uncle Went to Earth … and What Happened Next!
Description
Sergio Rivera discusses his varied background and his first published book, "My Uncle Went to Earth, and All I Got Was …" in which a young alien helps his kind to establish a settlement on Earth, fighting against human prejudice, fears and hostility.
Presenter's Name
Sergio Rivera
Presenter's Bio
Sergio Rivera, originally from Madrid, Spain, has had careers in real estate, marketing, and hospitality, from Spain to Italy, France, and Miami, and now owns a small Latin restaurant in Gurnee specializing in healthy natural Mexican and Latin American favorites. His recently-published first book examines the relationships between Earth's inhabitants and visitors/settlers from an alien world. He is a father to three sons, grandpa to three amazing kids, and he loves dancing!
Tentative Date Time
Friday, October 27th 1:30 PM
*Note: The information above is a draft provided by the presenter and may be different in the WeeM Booklet.
---
Deadlines
Registration - The deadline (October 12

th

) for advanced registration has expired. Join the fun at WeeM and register at the door if you haven't preregistered.
Excursions - The sign-up deadline for the Excursions was October 15

th

.

Vendor space

- The deadline to submit the contract was October 13

th

.

Lodging

- The deadline (October 20

th

) for the WeeM rate has expired.
Follow WeeM on Facebook and Twitter