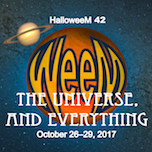 Preregistration is now closed but DON'T PANIC. Come to WeeM and register at the door. M‑Letter

and PAAG

are now available.
HalloweeM 42: WeeM, The Universe, and Everything
October 26 – 29, 2017
Preregistration is now closed. Come to WeeM and, if you haven't preregistered, please register at the door. If you preregistered but your payment was not received by October 12th, you will have to register at the door and no discounts for which you may have qualified will be honored.
Program Details*
Title
Chair Massage
Description
Chair Massage will be available in the vendor hall on Friday and Saturday from 9 am - 1 pm and Sunday from 9 am - 12 pm. Cost is $15 for a 15 minute session. Sign-up in advance to reserve your spot!!
Presenter's Name
Deborah Knoll & James Martin
Presenter's Bio
My name is Deborah Knoll, but Dee is just fine! I have been doing massage therapy since 2004 and esthetics/skin care since 2010. My passion for massage therapy came from wanting to help people in a therapeutic and beneficial way. I believe there are many benefits to massage such as increased circulation, relief of chronic pain, stress reduction, flushing toxins out, aiding in the healing process of injury/recovery, and balancing the mind, body, and spirit. Each client is treated as an individual and will experience a customized massage that is most beneficial for them. Some of the techniques or type of massage I specialize in are Swedish, Deep tissue, Sports, Pregnancy, Hot stone (geo thermo therapy), Myofacial release, and Reiki. I am state licensed and am always continuing my education to learn more about this growing field.

My name is James Martin, but most people call me Jim. I graduated from the Chicago School of Massage Therapy in 1997. My massage expertise include: Swedish, Deep Tissue, Lomi Lomi, Myofacial Release, and Sports Massage. Certified in Myofacial Release since 1999, I am a Deep Tissue Specialist who can easily handle the needs of clients requesting deeper treatments as well as those looking for a more relaxing experience. I am state licensed and enjoy learning about new techniques by keeping up with continuing education and constantly going with the flow in this changing field.
*Note: The information above is a draft provided by the presenter and may be different in the WeeM Booklet.
---
Deadlines
Registration - The deadline (October 12

th

) for advanced registration has expired. Join the fun at WeeM and register at the door if you haven't preregistered.
Excursions - The sign-up deadline for the Excursions was October 15

th

.

Vendor space

- The deadline to submit the contract was October 13

th

.

Lodging

- The deadline (October 20

th

) for the WeeM rate has expired.
Follow WeeM on Facebook and Twitter