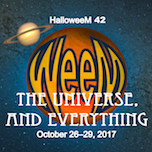 Qualify for discounted WeeM rates by registering today. Book your room by September 22nd and request the WeeM rate of $127. Sign up for the Excursions now!
HalloweeM 42: WeeM, The Universe, and Everything
October 26 – 29, 2017
Program Details*
Title
Short-Form Improv Comedy - Crazy Shades of Blue
Description
Crazy Shades of Blue is returning to 'WeeM to bring you a fun, improvised comedy show where we'll take your suggestions and turn them into hilarious scenes. If you made it to our workshop, you'll get to see us put everything we talked about there into practice as we do some fun make-'um-ups on stage. And who knows, you might even be the star of a scene!
Presenter's Name
Steve Duberchin
Presenter's Website
http://www.improvthis.com

Presenter's Bio
Crazy Shades of Blue has been performing as a house team at Laugh Out Loud Theater for over six years and performing at 'WeeM for almost as long. We're looking forward to bringing our brand of short-form improv to the stage for you.
*Note: The information above is a draft provided by the presenter and may be different in the WeeM Booklet.
---
Deadlines
Registration - Discounts for advanced registration are available through October 12

th

. (Note: Full payment is required by the appropriate deadline to qualify for any discount).
Excursions - Sign up for either of the Excursions before October 12

th

. Since space is limited, the deadline may move up depending upon demand.
Lodging - The hotel is offering a WeeM rate of $127 through September 22

nd

, subject to availability. If the hotel block is full, please contact our WeeM Chair who will try to expand the block.
Follow WeeM on Facebook and Twitter