Cheap Eats:

Tagen Bamya
Okra Casserole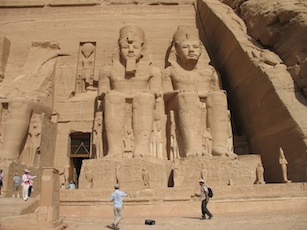 Last summer's big adventure was moving. This year, I was able to get back to my preferred adventure of traveling. Along with fellow Mensan Barb Pohl, I headed for three weeks in Egypt and Jordan. It was a great trip.
In Egypt, we did all the stuff you're supposed to do—pyramids, Sphinx, Cairo Museum, Valley of the King, Abu Simbel, Karnak, Luxor, Aswan, cruising on the Nile—plus a handful of other wonderful things I hadn't anticipated, including some less famous but exquisite temples, including Philae, Edfu, and Kom Ombo, a few very early Coptic churches, and a mosque that is a copy of Istanbul's Blue Mosque, except all in alabaster. In Jordan, we of course saw Petra, but also floated in the Dead Sea and visited the Crusader castle at Ajlun, Roman ruins at Jerash, and the earliest known map of the Middle East, which is a large mosaic at Madaba.
There were lots of other delights, as well, from felucca cruises to botanic gardens, home-hosted meals to caleche rides. Of course, food was a big part of the experience. Tahini, baba ganouj, and hummus were served at every meal, including breakfast. A few of us went out for stuffed pigeons (an Egyptian specialty, traditionally stuffed with green wheat and spices). There was a lot of variety, but there were some things we saw often. We ate a lot of water buffalo (most beef in Egypt is water buffalo—and most milk is buffalo milk), as well as lamb. Yogurt and feta cheese appeared every morning. Falafel was both a breakfast dish and an afternoon snack. Eggplant appeared at almost every meal, though in myriad forms, hot and cold. Fresh dates and figs were common, and seeing watermelon piled high on every little horse-drawn cart in Cairo, we weren't surprised that it also appeared at most meals. Fava beans were ubiquitous—not only are they used to make Egyptian falafel (called tamiya), but fava bean-based fuul medames is practically the national dish of Egypt. And, especially in the south, okra (bamya in Egypt) was abundant—and delicious.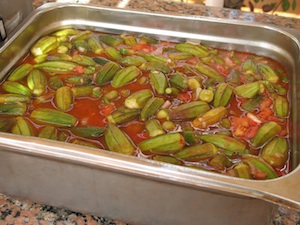 While we were in the south, we spent one day visiting a Nubian village. Nubia used to exist between Aswan (the first cataract in the Nile) and Khartoum (the fifth cataract), but Nubia has been absorbed by Egypt in the north and Sudan in the south. The Nubians were further displaced when the Aswan High Dam flooded their traditional lands. But they rebuilt their distinctive villages inland from where they originally lived, and we were able to visit a number of families, with whom we enjoyed mint tea and fried potatoes. We also were treated to a luncheon buffet at a Nubian restaurant, Nubia House, in Aswan. Among the dishes offered was an okra casserole. We actually encountered a number of different okra casseroles, some with beef or lamb, others without. One day in Aswan, we were given shopping lists and sent into the local street market to buy the ingredients for an okra casserole—and searching out ingredients and bargaining with shopkeepers was tremendous fun. Then we were given a cooking lesson on how to produce this traditional dish.
A couple of notes: stock/bouillon cubes may seem like a short cut, but they are very authentic, as most of rural Egypt is kind of thin on refrigeration in private homes. As for the oil, corn oil or ghee (clarified butter) would be the most commonly used. I use a combination of olive oil and unsalted butter—because corn oil is just not that good for you, plus I have a refrigerator, so I don't need to use clarified butter (which can be kept without refrigeration).
Frozen okra is commonly used (and was what we bought in the market), because while homes may not always have refrigeration, shops do, so veggies can be had even in the dry season. However, this dish can be made with a couple of pounds of fresh okra. But if you use fresh, be sure to trim the caps of the okra—just cut a thin layer off the top. Finally, the chef said the sliced lemon was optional, but I find it adds such a lovely, bright note that I don't really think it is optional—but it can be left out without affecting authenticity, if you dislike citrus. I have already made this since returning home, and it was a big hit at the party to which I took it. Of course, if you're not making it for a party, you can cut the recipe in half. Enjoy.
Tagen Bamya
(Okra Casserole)
2 Tbs. vegetable oil, or combination of oil and unsalted butter
4 large garlic cloves, minced
2 large onions, chopped
4 large tomatoes, chopped (about 4 cups)
2 large green peppers, chopped
2 1-lb. packages frozen okra
3 Tbs. tomato paste
2 chicken stock cubes
¼ tsp crushed red pepper, or to taste
1 lemon, thinly sliced
salt and pepper to taste
Preheat oven to 450°F.
In a large (8 quarts is good) casserole dish, heat the oil/butter and, stirring frequently, fry the onion and garlic until brown. Add the green pepper and tomato and stir. Add the okra, tomato paste, stock cubes, and red pepper; stir to combine. Season with salt and pepper to taste. Add water to cover ingredients. Cover the casserole and place in the oven. Bake for 45-50 minutes.
Remove casserole from oven. Place lemon slices on top of okra.
Serve hot. Serves 14-16.