Cheap Eats:

Barazek
Pistachio Cookies)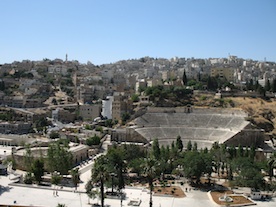 Jordan was a real surprise. We'd kind of expected a poorer version of Egypt—for indeed Jordan does have less income than its North African neighbor. But history has drawn sharp distinctions between the two countries—particularly in their capitals. Cairo has been continuously inhabited for about 5,000 years. Other than a few nomadic Bedouins, Amman was uninhabited for about 2,000 years, from after the last Roman legions pulled out until the Circassians (Muslim refugees from the Caucasus) arrived in the 1870s. So Amman dates from about the time people started figuring out that city planning is a good idea. This is evident everywhere, largely because of zoning laws in Amman that keep the town attractive and sensibly organized, but is most obvious on the road. While traffic in Cairo is a snarled lunatic asylum, where people ignore signs, lanes, and speed limits, and things are further complicated by camels, donkeys, horses, and animal-drawn carts piled precariously high with watermelons or hay, the traffic in Amman is well regulated. People actually stay in their lanes and stop at stop lights, and critters are not permitted on busy downtown streets. Less picturesque, but much easier for driving.
This doesn't mean driving in Amman is always easy. With the town sprawling over seven mountains, there is a considerable amount of winding up and down narrow roads. But it's all very reasonable. And that 1870 date doesn't mean Jordan isn't knee-deep in history, it's just that most of the history is either ancient (from Paleolithic and Neolithic settlements to Hittites, Assyrians, Persians, and assorted others, to the Roman Empire) or it's outside of Amman.
Jordan is small enough that, in five days, we managed to see about 80 percent of all possible tourist sites—which is not to say one couldn't use more than five days, but it was nice to be able to hit most of the "hot spots" in the time we had. The Dead Sea was great fun—and it's not just that you float; you can't walk. You get about thigh-deep, and the densely saline water just lifts you off your feet. We floated, collected salt crystals along the shore, and then covered ourselves with Dead Sea mud, which did in fact make our skin softer, as advertised.
The south is pretty much a desert. In fact, if you saw Lawrence of Arabia, you have a good idea what the place looks like (even though the movie wasn't actually shot here)— and, in fact, Aqaba, Lawrence's goal early in the movie, is in southern Jordan. The north is quite green, with farms and forests—this is the part of Jordan that was occupied even after the Romans left. In the north, we visited the Crusader castle at Ajlun and the remains of the Roman city of Jerash (called Jerasa today). Heading south was like driving through the Old Testament, as we passed from the land of the Ammonites into that of the Moabites and then the Edomites. We stopped at the top of Mount Nebo, where Moses looked across the Jordan into the Promised Land, and could see Jericho in the distance.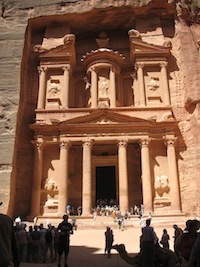 Of course, the big event of the trip—the real reason I wanted to visit Jordan—was Petra, and that did not disappoint. The siq (the long, narrow channel through the mountains that leads into Petra) was actually more astonishing than I had anticipated, with channels along both sides carved by the Nabataeans to carry water into the city, the worn remains of stone guards carved into the walls, and the stone itself, which is wildly colorful and fantastically eroded. But then that moment comes—the payoff— when the end of the siq is in sight, and through that narrow passage you can see the handsome façade of the Treasury, carved into the stone wall facing the siq. Wow. It was even more impressive than I had imagined. But while the Treasury is the most famous and imposing building in Petra, it was by no means the only one, so we hiked on, down Roman roads, past columns and an amphitheater, tombs—and souvenir sellers galore. What an amazing place.
But this is a food column, right? So let me tell you about the food. It was great. Lots of roast lamb, rice pilaf, falafel (including a spicy, giant falafel stuffed with grilled onions, peppers, and sumaq), hummus, tahini, eggplant, cucumber salads, yogurt, garlic in everything, bread cooked in wood-burning ovens. Just wonderful. And the pastry was astonishing. This region has long been a crossroads, and Jordan has adapted the best of Greek, Turkish, and Lebanese pastry into its culture, which means a fair bit of honey and phyllo, but also mountains of almonds, pistachios, and sesame seeds.
We first sampled barazek, a wonderfully addictive cookie, at an over-the-top pastry shop called Anabtawi in Amman. I later learned that these cookies are made in much of the Middle East, but I will always associate them with Jordan. They are not terribly sweet, but thanks to the nuts, they are very flavorful—and pretty hard to resist. Enjoy.
Barazek
1½ cups butter (three sticks)
1 cup sugar
2 eggs
1 tsp. baking powder
1¾ cups flour
2 cups semolina
dash salt
½ cup unsalted pistachios, chopped
2 cups sesame seeds, toasted
⅓ cup honey
oil, shortening, spray, or whatever you prefer to use to make your cookie sheets non-stick
Grease a couple of cookie sheets. (If you only have one, that's fine —just takes a bit longer to finish baking all the dough.)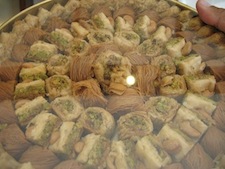 Preheat the oven to 350°F. Cream together the butter and sugar until light and fluffy. Stir in the eggs until completely combined. Sift together the baking powder, flour, semolina, and salt. (Alternatively, if you don't have a sifter, just put the dry ingredients in a separate bowl and use a whisk to blend them thoroughly.) Stir the flour mixture into the butter mixture, combining thoroughly.
In a separate bowl, mix together the sesame seeds and honey.
Scoop out a lump of dough that is slightly smaller than a walnut, and roll it into a ball. Dip one side of the dough ball into the chopped pistachios. Put the dough ball, pistachio-side down, on the greased cookie sheet and flatten it into a cookie shape (about 2 inches in diameter). Once you've filled the cookie sheet, spread some of the honey/sesame seed mixture over the top of each cookie.
Bake for 12-15 minutes or until golden brown. (It's wise to start watching closely after 10 minutes, as these can go from golden to charcoal pretty quickly.) Once they've cooled, put in a cookie tin or other airtight container, to keep them crisp.
Makes 36 to 42 cookies, depending on how big you make them.
---
Notes:
You can buy bags of sesame seeds at most ethnic grocery stores. If you can't find toasted sesame seeds, you can toast them yourself. Put sesame seeds in a nonstick skillet over medium heat. Stir almost constantly (to keep them from burning) until they begin to turn golden brown, about 3 to 5 minutes, depending on whether seeds are hulled or unhulled. Cool before using in the recipe.
If your honey is thick and not easy to spread, you can stir a little warm water into the honey/sesame seed mix, to make it more spreadable. Add water slowly, however, as you just want it slightly thinner, not soupy.