In Memoriam: Pepper Zenger
Remembering longtime Mensa member Pepper Zenger, who passed away June 25, 2012
---
Remember Pepper
by Stacey Kirsch
Pepper Zenger joined Mensa in 1980, and she became involved very quickly. She hosted monthly Games & Conversations at her home, and one of those in early 1984 was the very first Mensa event I ever attended. She became the West Suburban Area Coördinator, then joined the Chicago Mensa Executive Committee (formerly known as Board of Directors). She held every position on the ExComm (formerly known as Board), including serving as LocSec for two years. She chaired two very successful HalloweeMs in the late 80s, and while Publications Officer, she also edited a couple of issues of ChiMe herself.
Pepper was well-known for her cooking prowess and her love of providing hospitality to all. In the days when the group could bring in home-cooked food to HalloweeM and to Monthy Gatherings, Pepper provided all kinds of delicious and beautiful food. I especially remember her wonderful gingerbread houses.
Spending time at her home was always a delight, whether it was for a party or G&C, or just to work on the ChiMe, something we did as a group in the late 80s and early 90s. We'd get together to work on her old Compaq luggable with Ventura Publisher 1.0 on it. Her dog, Java, and her 22-toed cat that I can still picture in my mind but cannot now name also kept us company. And Pepper would keep us in stitches telling us funny stories about both of them.
While she was less active in Mensa in later years, she has not been forgotten by those who remember her fondly. She leaves behind many old friends, and her beloved husband, Bill.
---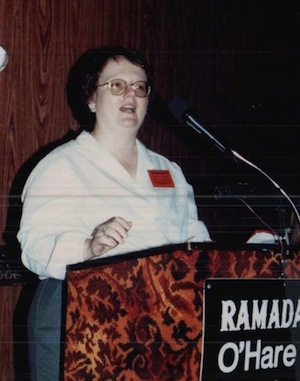 Tap/Click photo to enlarge
Pepper Zenger
---