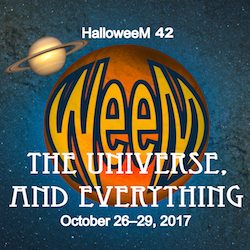 Qualify for discounted WeeM rates by registering today. Book your room by October 8th and request the WeeM rate of $127. Sign up for the Excursions now!
HalloweeM 42: WeeM, The Universe, and Everything
October 26 – 29, 2017
We have migrated our registration system to an online form, which will automatically calculate your registration rate for you. Whether you plan to pay online via PayPal (preferred) or send a check via postal mail, please start by filling out the online registration form. If you elect not to use PayPal, mailing instructions will be provided after you complete the form.
Ready to register? Have your Mensa number handy? Click here to register now

!
Advantages to Registering Now?
Easy Check-in
Qualify for Discounted Rate
Ability to Pay via PayPal which includes Credit Cards
Pre-Printed Badge
A photo id will be required for any adult picking up Pretentious Drinking coupons for Saturday night. You will not be able to get them for other adults in your party.
Registration Rates
Please note that Mensan rates assume membership in good standing. IDs will be verified on-site when you pick up your badge. The additional charge for non-Mensans or Mensans whose membership has lapsed is $10. For anyone paying this additional charge, membership forms and/or coupons for a discount on testing will be available on-site at the registration desk.
There is no charge for children age 8 and under to attend when accompanied by a registered adult; and there is a discount for attendees under the drinking age.
Full (4-day) Registration
This is your best value, particularly if you register early! Enjoy four days of programming, hospitality, and fun activities hosted by Chicago Area Mensa!
Payment received by:
May 15
(Early Bird)

July 17

October 12
At the Door
Mensa Member Adult (21+)

$75

$80

$85
$100
Mensa Member "Under 21" (Ages 9-20)

$45

$50

$55
$80
Non-Members
Add $10 to the rates above
Children (Age 8 and under)
No charge to attend, nominal charge for babysitting (see Kids' Room), must be accompanied by a registered adult
Single Day Passes
Please note that the $10 additional charge for non-members applies ONCE per person per registration. Please also note that there is no Early Bird discount for single day passes, though there is a discount for registering in advance. The registration form will calculate this for you automatically.
Adult (21+) Rates:
Payment received by:
October 12
At the Door
Thursday
$20
Friday OR Saturday
$35
$50
Sunday
$10
Non-Members
Add $10 to the total registration
"Under 21" (Ages 9-20) Rates:
Payment received by:
October 12
At the Door
Thursday
$10
Friday OR Saturday
$20
$30
Sunday
$10
Non-Members
Add $10 to the total registration
Cancellation Policy
An 8-percent processing fee will be charged for cancellation and refund requests received by October 12th. Cancellation and refund requests received after that date will be reviewed on a case-by-case basis, based on circumstance and event viability. If you need to cancel, please use the Contact link at left or below and choose "Registration" from the "What is this regarding?" drop-down list.
Questions?
Please contact us

if you have any questions regarding your registration, cancellations, or these rates. Contact our WeeM Chair

if you have any questions about WeeM in general.
Deadlines
Excursions - Sign up for either of the Excursions before October 12

th

. Since space is limited, the deadline may move up depending upon demand.

Vendor space

- Please complete and submit a Vendor Application by October 13

th

. If you have any questions after reviewing the Vendor Flyer containing all the details, contact the WeeM Vendor Liaison.
Lodging - The hotel is offering a WeeM rate of $127 through October 8

th

, subject to availability. If the hotel block is full, please contact our WeeM Chair who will try to expand the block.
Follow WeeM on Facebook and Twitter