FREE Prior Evidence review...a $40 value!
Until the end of November you can submit your score from any of 200+ IQ tests that American Mensa accepts for admission.
For details, visit here.
The December Monthly Gathering will be held at the
Rolling Meadows Community Center

,
3705 Pheasant Dr., Rolling Meadows, IL 60008

Future MGs may be at different locations.
Welcome to Chicago Area Mensa
Our Mission
Chicago Area Mensa is a welcoming organization that provides a framework for intelligent individuals to interact and pursue common interests in order to build a social community.
One out of every fifty people qualifies for Mensa...
Are you the one?
---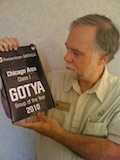 Former Loc Sec Matt with GOTYA
Mensa fame: Chicago is the only nine-time GOTYA winner in Mensa.
---
Note: Mensa was featured on CBS Sunday Morning (including notable Chicago Area Mensans!) a few years ago. See the show on CBS's YouTube channel:
---
Mensans come from all walks of life. They range from three to one hundred years old. They represent both sexes, all races, various professions, and many beliefs. In fact, there's only one thing all Mensans have in common: high intelligence. To qualify for Mensa, you must have scored in the top 2% of the general population on a standardized intelligence test. There are many tests we accept. Once you've decided to join us, a world of social and intellectual opportunities is open to you.
Chicago Area Mensa has something for everyone. There are many activities are scheduled each week. The range of activities is wide. In a recent month, there were six games nights, a Sunday brunch, a potluck, seven dinners, five lunches, a competition at a trivia contest, a movie night, and discussions about poetry, Christianity, movies, and science fiction. All this in addition to our regularly scheduled Monthly Gatherings, which boast a spectacular variety of speakers. In the past year alone we've enjoyed presentations on Mithraism and cosmology, Mongolia, Rembrandt, the intelligence of squirrels, patent law, Islam, an "animal intuitive," writing horror stories, correlation of diet and brain size, and magic.
If our local events don't keep you busy enough, there are many other opportunities to meet other Mensans from all over the globe. Each October, Chicago Area Mensa hosts HalloweeM, one of the grandest of all the Regional Gatherings. In the summer, Mensans from around the country get together at the Annual Gathering, which is a feast of presentations and activities for our omnivorous minds. There are also Mensa colloquia: the next one coming up in 2014 is "Crime Scene Intelligence." "Between Science Fiction and Science" was the topic of the most recent one held last July. Past topics included "Social and Video Games," "Electronic Gaming and Its Impact on Society" and "Weather."
In an MTV world, it's good to find some PBS minds. Come, see what we can do for you.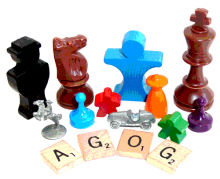 "A Gathering of Gamers"
Games, games, and more games!
Only 47 days until AGOG. Join your fellow Mensans on January 15th – 17th for fun and games.
Register NOW to qualify for the reduced rate of $49 (adult)/$29 (under 18). This Tuesday is the last day you can pre-register. Registering at the door will be an additional $6/person over the pre-registration rate. Non-members pay an additional $5.
Do you like games? Do you spend the entire WeeM weekend in the games room? Would you like to do again? No, we're not asking you to wait almost an entire year until WeeM 2016 or even until Mind Games® in April. Instead, we're saying you can do it again in January!!! Every winter, Chicago puts on AGOG — or, A Gathering of Gamers (this year, the 15th – 17th). It's a weekend-long gathering of just games. All the games we have at WeeM and more, because folks like you can bring your own to share. We provide food, non-alcoholic beverages and all the games you want for a reasonable price.
---

---
Chicago Area Mensa will be hosting Mind Games®

in 2016, from Friday, April 15th through Sunday, April 17th. This competition provides an opportunity for game manufacturers to compete in one of the most respected and recognizable national games competitions, while having their games reviewed by some of the nation's most avid game-players — members of American Mensa. Each year, 300 Mensan participants, or "judges," play and critique games released in the past year and award the coveted Mensa Select® seal to the top five vote-getters. AM MindGames Registration

The event will be held at the Westin-Chicago North Shore Hotel at 601 North Milwaukee Avenue in Wheeling which is where both WeeM and AGOG have been and will be held. Book your room now

for the best rate of only $99 through March 26th, 2016. The hotel is located on the east side of Milwaukee and the main entrance is at the intersection of Milwaukee Avenue and Wolf Road (just south of Lake-Cook and north of Dundee Road). Check out the 2004 photos when Chicago Area Mensa last hosted the games. Come, play and critique the newest games not yet on the market.