Half price for the Mensa Practice Test!
Through May 31 you can take the online Mensa Practice Test for just $9, a 50% savings. The Mensa Practice Test can be found here.
Until further notice, the Monthly Gathering will be held at the
Rolling Meadows Community Center

,
3705 Pheasant Dr., Rolling Meadows, IL 60008
* * * * * *
CAM turns 50! Come celebrate at this month's Gathering and at the Long-Timers' Luncheon.

Welcome to Chicago Area Mensa
Our Mission
Chicago Area Mensa is a welcoming organization that provides a framework for intelligent individuals to interact and pursue common interests in order to build a social community.
One out of every fifty people qualifies for Mensa...
Are you the one?
---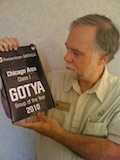 Former Loc Sec Matt with GOTYA
Listen to the WTMX podcast featuring two of our local members and broadcast during August of 2013.
---
Mensa fame: Chicago is the only nine-time GOTYA winner in Mensa.
---
Note: Mensa was featured on CBS Sunday Morning (including notable Chicago Area Mensans!) a few years ago. See the show on CBS's YouTube channel:
---
Mensans come from all walks of life. They range from three to one hundred years old. They represent both sexes, all races, various professions, and many beliefs. In fact, there's only one thing all Mensans have in common: high intelligence. To qualify for Mensa, you must have scored in the top 2% of the general population on a standardized intelligence test. There are many tests we accept. Once you've decided to join us, a world of social and intellectual opportunities is open to you.
Chicago Area Mensa has something for everyone. There are many activities are scheduled each week. The range of activities is wide. In a recent month, there were six games nights, a Sunday brunch, a potluck, seven dinners, five lunches, a competition at a trivia contest, a movie night, and discussions about poetry, Christianity, movies, and science fiction. All this in addition to our regularly scheduled Monthly Gatherings, which boast a spectacular variety of speakers. In the past year alone we've enjoyed presentations on Mithraism and cosmology, Mongolia, Rembrandt, the intelligence of squirrels, patent law, Islam, an "animal intuitive," writing horror stories, correlation of diet and brain size, and magic.
If our local events don't keep you busy enough, there are many other opportunities to meet other Mensans from all over the globe. Each October, Chicago Area Mensa hosts HalloweeM, one of the grandest of all the Regional Gatherings. In the summer, Mensans from around the country get together at the Annual Gathering, which is a feast of presentations and activities for our omnivorous minds. There are also Mensa colloquia: the next one coming up in 2014 is "Crime Scene Intelligence." "Between Science Fiction and Science" was the topic of the most recent one held last July. Past topics included "Social and Video Games," "Electronic Gaming and Its Impact on Society" and "Weather."
In an MTV world, it's good to find some PBS minds. Come, see what we can do for you.
---
---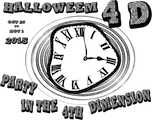 WeeM 4D: Time Travel
Only 152 days until WeeM 4D: Time Travel!

Mensans, please register if you haven't already done so. You don't want to miss the terrific program and this incredibly fun experience. October 15th is the last day you can register online and qualify for a discount.
The hotel is offering a special $115 WeeM rate through July 27th, subject to availability.
---