The organizers of the events listed on this calendar have expressed willingness for members elsewhere in the world to join in. Please don't give them a bigger crowd than they can handle, and do be careful about time zones. The displayed time zone is GMT! If you add them to your own calendar, the time zone should convert to your specified time zone.
To have your virtual event added to this calendar, contact Matt C., the CAM International Calendar contact.
There may be other virtual events, as well as in-person events, which may be of interest to CAM members, hosted by various local groups listed on the American Mensa Calendar of Events.
1 November/ Tues­day
ChiMe Activ­ity Bulletin and Ad­vertising Dead­lines. Last day for these submissions to the December ChiMe. Interested in organizing and hosting a virtual or in-person event? There's bound to be an activity or a restaurant you want to try, but you just want some other people to experience it with you. So invite your fellow Mensans. Find out how by visiting our guide to hosting events.

ChiMe Editorial Dead­line. Last day for editorial submissions to the December ChiMe. Please submit original ar­ticles, insights, puzzles, brain teasers, photographs, or short poems. Your fellow Chicago Area Mensa members would love to hear from you.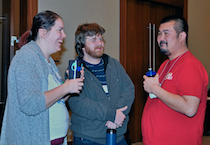 A Gathering of Gamers (AGoG) - Preregistration Rate Increase Alert! Join us for a relaxing weekend of games and hospitality on February 17th – 19th. Friday, January 6th is the last day you can pre­reg­ister for AGoG and qualify for the best AGoG discount. By pre­reg­istering, you may pay with PayPal , and, once you get to AGoG, you won't have the hassle of filling out forms at registration plus you'll get a pre-printed badge. So instead of wasting time at registration, you can start playing!
Activities Bulletin
October 2022
October
1
2
3
4
5
6
7
8
9
10
11
12
13
14
15
16
17
18
19
20
21
22
23
24
25
26
27
28
29
30
31
RSVPs - Always contact the CAM event host as specified in the event details — e-mail , phone , text , or Meetup .
Chicago Mensa Meetup - All our events are listed; see who signed up, get notifications, and add the event(s) to your personal calendar. Check out the calendar,
Facebook - The following CAM group has its own closed Facebook group which may have events not listed here nor on Meetup (contact them to join):
Chicago Mensa Meetup - All our events are listed; see who signed up, get notifications, and add the event(s) to your personal calendar. Check out the calendar,
Facebook - The following CAM group has its own closed Facebook group which may have events not listed here nor on Meetup (contact them to join):


Come & play at AGoG!
Feb. 17th – 19th