Latest News
The M‑Letter, Program Book, and PAAG are now available.
Come to WeeM! If you didn't preregister,
register
on site.
Double your chance of winning the $50 Amazon Gift Card and other cash prizes by signing up to volunteer before Wednesday! Ask your friends to join you.
Order your exclusive WeeM 45 merchandise now!
Interested in sharing a room or ride? Let our matchmaker help you by signing up no later than today.
See All the Rates.
This site will be updated with the latest information as it becomes available.
Tournaments
We will have a wide array of tournaments just as we have every year! You can see the tournament schedule online in the posted Programs At A Glance (PAAG) and get more information in the Program Book. Get details for some by clicking/tapping on the provided links. When required, the Tournament sign-up sheets are in Hospitality near the Games Room entrance and the info is usually posted in the assigned room. Tournaments are offered in separate room(s) from the Open Gaming room. The hotel layout for HalloweeM can be found here. The following list of tournaments and game-related programs shows the ones that are scheduled for WeeM 45.
Sign-up sheets for the tournaments will be located in Hospitality near Ravinia A, the Games Room.
To minimize Covid risks, no food or beverages are allowed in the Speaker/Tournament rooms. The Hotel does supply water. Masks must be worn except when sipping your drink.
Games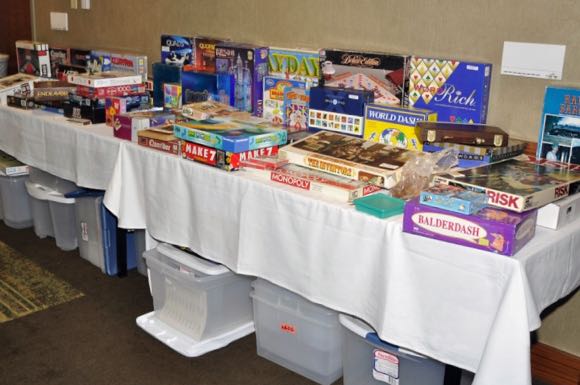 The game room will be available around the clock, with the Chicago Area Mensa collection of (at last count) over 380 games. We're sometimes asked what games we have, by people who bring games to RGs and don't want to tote one that will already be on hand. We've got you covered! Over on Board Game Geek, you can find the list of our entire collection (minus a couple of oldies for which the Geek has no entry). Check it out! And, if we're missing a game that is one of your favorites, contact our Game Warden to tell us what you'd like to see added to our collection.
Please be considerate. WeeM attendees are expected to clean up after themselves. When finished playing, put all game components back into the box. Also remove all cups, papers, personal items, etc. before leaving the Games Room. The hotel staff does not bus Hospitality nor the Games Room.
To minimize Covid risks, no food, including meals, snacks, or candy, may be consumed in the Games Room. Beverages, however, are allowed. Masks must be worn except when sipping your drink.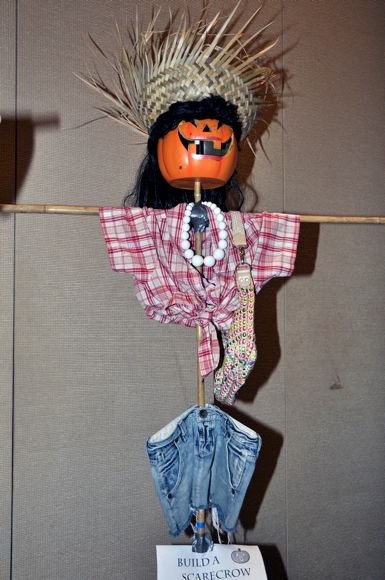 Contests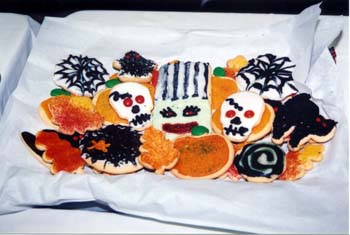 There are also contests at WeeM like the annual Costume Contest and the Volunteer Raffle. Occasionally there have been additional contests but it hasn't been decided what may be offered. The list below includes some that were offered in the past. Contact the HalloweeM Chair if you'd like to propose and be in charge of a contest.
Cookie Decorating Contest

Build your own Scarecrow

- Bring some old clothes from home; get creative and build a traditional or unusual scarecrow! There will also be some stuff supplied but you may have some better garb to give your scarecrow "personality."

Costume Contest

- Friday night's costume parade is legendary. There are winners in multiple categories: best pun, worst pun, best traditional, best based on the WeeM theme, and even best bribe -- so this year, go adventurous, musical, or out-of-this-world.

Volunteer Raffle

- Although not a contest, the more hours you volunteer, the more chances you get to win prizes, doubled if you sign up in advance — and, although being kind, generous, and considerate is its own reward, who doesn't need a few extra

bucks!

. Winners announced Sunday morning. Winners of the larger award amounts need not be present.
---
Deadlines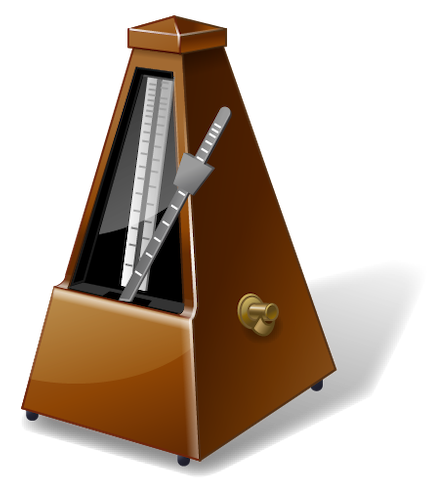 Registration - Join the fun at WeeM. Register at the door if you haven't preregistered. The deadline for online registration was October 15

th

.
Excursion - The sign-up deadline for the Excursions was Monday, October 18

th

.

Vendor space

- The deadline to submit the contract was October 20

th

.
Lodging - The deadline set by the hotel for the WeeM rate was October 14

th

.
Volunteer Now! Get involved and become a star. We have a great WeeM every year due to the many of you who sign up to help out for a few hours or more. Double your chance of winning the $50 Amazon Gift Card and other cash prizes by signing up before Wednesday, October 27

th

.
Room and/or Ride Sharing - Let us help match you up with another attendee who is also interested in sharing a room or ride by submitting your information by Sunday, October 24

th

.

Speaker/Tournament Submissions

- The deadline to submit your proposal for a program or tournament for WeeM was Wednesday, September 15

th

.
Follow WeeM on Social Media