HalloweeM 42: WeeM, The Universe, and Everything
October 26 – 29, 2017
Tournaments
We will have a wide array of tournaments just as we have every year! Tournaments are offered —in a separate room from Open Gaming. The following list of tournaments shows some from last couple of years that may be repeated:
7 Wonders
LEGO Improv
Keep Talking and Nobody Explodes Tournament (New in 2016!)
Ascension

™

(New in 2016!)
Euchre
Splendor (New in 2016!)
Logic Tournament
Werewolf (Saturday)
Note: Werewolves of WeeM will be played nightly but this is a special tournament.
Street Vendor Quiz Competition
Poker
MovieMashup
Life-size Kill Dr Lucky
Trash Bowl
Cribbage
Blindfold Chess Exhibition
Settlers of Catan

™

Don't be that Guy
Poppycock and Tish-Tosh
Games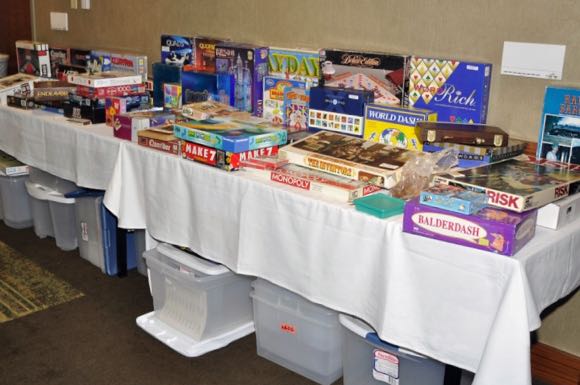 The game room will be available around the clock, with Chicago Area Mensa's collection of (at last count) over 280 games. We're sometimes asked what games we have, by people who carry games to RGs and don't want to bring anything that will already be on hand. This year, we've got you covered! Over on Board Game Geek

, you can find the list of our entire collection

(minus a couple of oldies for which the Geek has no entry). Check it out! And, if we're missing a game that is one of your favorites, contact our Game Warden

to tell us what you'd like to see added to our collection.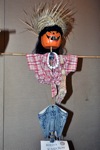 Contests
There are also contests at WeeM, many of which have been featured in years past. Although it hasn't been decided which contest will be offered, here's a list of some that were offered in the recently.
Build your own Scarecrow

- Bring some old clothes from home; get creative and build a traditional or unusual scarecrow! There will also be some stuff supplied but you may have some better garb to give your scarecrow's "personality."

The Epicurean Experience

- This will be a contest on Saturday evening for the younger crowd.

Costume Contest

- Friday night's costume parade is legendary. There are winners in multiple categories: best pun, worst pun, best traditional and best based on the WeeM theme -- so this year, go wild.

Volunteer Raffle

- Although not a contest, the more hours you volunteer, the more chances you get to win prizes — and, although being kind, generous and thoughtful is its own reward, who doesn't need a few extra bucks!
---
---
Deadlines
Registration - Discounts for advanced registration are available through October 12

th

. (Note: Full payment is required by the appropriate deadline to qualify for any discount).
Excursions - Sign up for either of the Excursions before October 12

th

. Since space is limited, the deadline may move up depending upon demand.
Lodging - The hotel is offering a WeeM rate of $127 through September 22

nd

, subject to availability. If the hotel block is full, please contact our WeeM Chair who will try to expand the block.
Follow WeeM on Facebook and Twitter