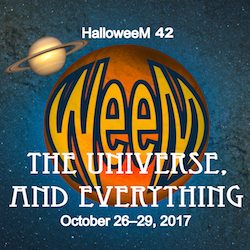 Preregistration is now closed but DON'T PANIC. Come to WeeM and register at the door. M‑Letter

and PAAG

are now available.
HalloweeM 42: WeeM, The Universe, and Everything
October 26 – 29, 2017
Preregistration is now closed. Come to WeeM and, if you haven't preregistered, please register at the door. If you preregistered but your payment was not received by October 12th, you will have to register at the door and no discounts for which you may have qualified will be honored.
Hospitality
As always, we look forward to bringing you a massive feast throughout the weekend. In addition to salty, sweet, and savory snacks; soda/pop, wine, wine coolers, and beer; and our 24-hour salad bar, all served throughout the weekend, you can expect the following meals at the listed times (please note slightly different times than in the past):
Thursday Dinner: 7 - 8:30 PM Build your own tacos & bowls with several meats, Sofritas (V) & toppings - Catered by Chipotle (all ingredients except flour tortillas are GF, however, their kitchens are not certified)
Friday Breakfast: 8 - 9:30 AM Continental Breakfast - Bagels & Schmear, Hot (microwavable) & Cold Cereals (some GF), Fruit, Yogurt, Milk, Coffee, Juices
Friday Lunch: Noon - 1:15 PM Award-winning bratwurst (GF) from Ream's Market or Smart Dogs (V), along with Toppings accompanied by Sides
Friday Dinner: 6 - 7:30 PM Chicken Breasts, Chicken Tenders (GF), Garden Burgers (V), and Sides
Saturday Breakfast: 8 - 9:30 AM Continental Breakfast plus Hot Breakfast Specials … Scrambled Eggs (GF/V), Cheese Omelets (GF/V), French Toast Sticks (V), and Breakfast Meats (both GF)
Saturday Lunch: Noon - 1:15 PM Selection of Chilis - Beef Chili (no beans), Chicken Chili (GF) & Vegetarian Chili (Vegan), Baked Potato Bar with Toppings
Saturday Dinner: Per our WeeM tradition, no dinner will be served on Saturday night so you can enjoy one of our local restaurants
Sunday Breakfast: 8 - 9:30 AM Continental Breakfast plus Hot Breakfast Specials … Scrambled Eggs (GF/V), Cheese Omelets (GF/V), French Toast Sticks (V), and Breakfast Meats (both GF)
Sunday Lunch: WeeM Style (a.k.a. leftovers!)
Snacks:
We know that Mensans love to eat…all the time, day and night. We will have snacks available 24 hours a day, including:
Drinks - milk, juice, soda, hot chocolate, coffee, hot tea, iced tea
Salty and sweet snacks - chips, pretzels, candy, cookies, ice cream, many & more
Salad bar will be available 24 hours with salad, fruit, cheese and other yummy noshy bits
For our friends with food allergies and sensitivities:
We will do our best to have a vegetarian option and a gluten free option available at each meal. If it is not clear, please ask. Please note: We are preparing food in a shared hospitality prep area and serving buffet style serving a large crowd using volunteer and hotel staff. We cannot guarantee that items are free from cross contamination. Ingredient lists will be available on site. But if you do have severe/life-threatening allergies, we recommend you take precautions to minimize your risk since our volunteers focus on replenishing the food, snacks, and beverages and are not trained to address dietary concerns.
We (Susan and Rhonda, the Hospitality chairs) will be around for any questions, comments, and concerns.
No dinner on Saturday?
It's a regional gathering tradition that Saturday is a separate meal from the RG hospitality meals and offerings. In the past, we offered a banquet on Saturday night, but by popular demand, we have shifted to this being a time when you can plan a meal or outing with friends to enjoy on-site and nearby restaurant offerings. Below is a list of links to some terrific restaurants, sorted by their proximity to the hotel. Visit the links for full menus, prices, and to find out if reservations are recommended (or required). The hotel website also includes a list of restaurants nearby

.
On-site Dining:
Saranello's - Italian, casual, part of the Lettuce Entertain You group
Walking Distance:
A Quick Drive:
Deadlines
Registration - The deadline (October 12

th

) for advanced registration has expired. Join the fun at WeeM and register at the door if you haven't preregistered.
Excursions - The sign-up deadline for the Excursions was October 15

th

.

Vendor space

- The deadline to submit the contract was October 13

th

.

Lodging

- The deadline (October 20

th

) for the WeeM rate has expired.
Follow WeeM on Facebook and Twitter