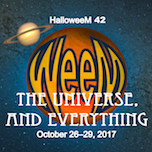 Preregistration is now closed but DON'T PANIC. Come to WeeM and register at the door. M‑Letter

and PAAG

are now available.
HalloweeM 42: WeeM, The Universe, and Everything
October 26 – 29, 2017
Preregistration is now closed. Come to WeeM and, if you haven't preregistered, please register at the door. If you preregistered but your payment was not received by October 12th, you will have to register at the door and no discounts for which you may have qualified will be honored.
Program Details*
Title
The Paper Chase: A Comical Story of One Man's Race to Beat the Clock
Description
In 2009, on a weekend that saw wind chills fall below zero, 800 Jewish people were attending a conference at a resort in the Catskills when the heat went out. Among the many challenges that arose was the need to procure disposable plates and cutlery to feed those cold people — all within the two hours left before sunset. What followed was a frenzied race that proved to be a great story filled with twists and turns, suspense, and a lot of laughs. This story, which also includes a slide show and info about the Jewish laws governing the Sabbath and keeping kosher, was a hit at this year's AG.
Presenter's Name
Matthew Grob
Presenter's Website
http://www.grobtrotter.com

Presenter's Bio
Matthew Grob is multi-faceted, like a gemstone. If you hold him up to the light at a certain angle, you maybe able to see your reflection. If you do, there will be six more weeks of winter. This story actually happened to him, and he has told it to audiences, including in a session at this year's Annual Gathering in Hollywood, FL
Tentative Date Time
Thursday, October 26th 10 PM
*Note: The information above is a draft provided by the presenter and may be different in the WeeM Booklet.
---
Deadlines
Registration - The deadline (October 12

th

) for advanced registration has expired. Join the fun at WeeM and register at the door if you haven't preregistered.
Excursions - The sign-up deadline for the Excursions was October 15

th

.

Vendor space

- The deadline to submit the contract was October 13

th

.

Lodging

- The deadline (October 20

th

) for the WeeM rate has expired.
Follow WeeM on Facebook and Twitter