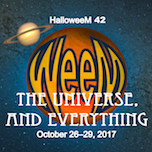 Preregistration is now closed but DON'T PANIC. Come to WeeM and register at the door. M‑Letter

and PAAG

are now available.
HalloweeM 42: WeeM, The Universe, and Everything
October 26 – 29, 2017
Preregistration is now closed. Come to WeeM and, if you haven't preregistered, please register at the door. If you preregistered but your payment was not received by October 12th, you will have to register at the door and no discounts for which you may have qualified will be honored.
Program Details*
Title
Your Duty-Free Allowance of Retsina
Description
Are you familiar with Retsina? Douglas Adams refers to in his books, providing an inside joke to those in the know about one of the most unusual wines on Earth. Hopefully you'll be squawking "a new pleasure" with a bit of the history and tasting of Retsina. (21+ for samples, please.)
Presenter's Name
Lora Mitchell
Presenter's Bio
Lora Mitchell is a slightly odd, but generally pleasant, Mensa member from Columbus, Ohio. Professionally she is in Human Resources, which has led to her secret knowledge of alcoholic beverages.
Tentative Date Time
Friday, October 27th 1:30 PM
*Note: The information above is a draft provided by the presenter and may be different in the WeeM Booklet.
---
Deadlines
Registration - The deadline (October 12

th

) for advanced registration has expired. Join the fun at WeeM and register at the door if you haven't preregistered.
Excursions - The sign-up deadline for the Excursions was October 15

th

.

Vendor space

- The deadline to submit the contract was October 13

th

.

Lodging

- The deadline (October 20

th

) for the WeeM rate has expired.
Follow WeeM on Facebook and Twitter