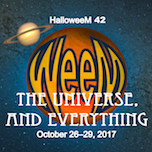 Preregistration is now closed but DON'T PANIC. Come to WeeM and register at the door. M‑Letter

and PAAG

are now available.
HalloweeM 42: WeeM, The Universe, and Everything
October 26 – 29, 2017
Preregistration is now closed. Come to WeeM and, if you haven't preregistered, please register at the door. If you preregistered but your payment was not received by October 12th, you will have to register at the door and no discounts for which you may have qualified will be honored.
Program Details*
Title
Risk Terrain Modeling Q&A
Description
Risk terrain modeling (RTM) is an approach to spatial risk analysis that is used to identify risks that come from features of a landscape and model how they co-locate to create unique behavior settings for crime and other risky behaviors. Come hear about the basics of this innovative method used in police departments all over the world by one of the experts in this methodology. This will be followed by an interactive discussion about the adaptability of the method, previous policing interventions and the appeal of RTM across a variety of disciplines.
Presenter's Name
Henri Buccine-Schraeder
Presenter's Bio
Henri Buccine-Schraeder is a research coördinator at Rutgers Center on Public Security and is a current PhD student at Rutgers University. Her research interests include sex offender policy, policing interventions, and spatiotemporal analysis. Henri is also the Membership Officer for the AMC, the National Coördinator for GenY, and the Region 2 GenY Co-Coördinator.
Tentative Date Time
Friday, October 27th 10:30 AM
*Note: The information above is a draft provided by the presenter and may be different in the WeeM Booklet.
---
Deadlines
Registration - The deadline (October 12

th

) for advanced registration has expired. Join the fun at WeeM and register at the door if you haven't preregistered.
Excursions - The sign-up deadline for the Excursions was October 15

th

.

Vendor space

- The deadline to submit the contract was October 13

th

.

Lodging

- The deadline (October 20

th

) for the WeeM rate has expired.
Follow WeeM on Facebook and Twitter