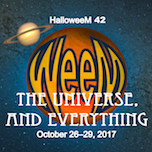 Preregistration is now closed but DON'T PANIC. Come to WeeM and register at the door. M‑Letter

and PAAG

are now available.
HalloweeM 42: WeeM, The Universe, and Everything
October 26 – 29, 2017
Preregistration is now closed. Come to WeeM and, if you haven't preregistered, please register at the door. If you preregistered but your payment was not received by October 12th, you will have to register at the door and no discounts for which you may have qualified will be honored.
Program Details*
Title
Writing & Publishing Science Fiction Thrillers
Description
Come share in a discussion of writing and publishing today with a writer of science fiction thrillers enjoyed by adult and young adult audiences. Your host will discuss his writing experiences, his experiences with traditional publishers, and then his experience over five years as a self-published author.
Presenter's Name
Lance Erlick
Presenter's Website
http://www.LanceErlick.com

Presenter's Bio
Lance Erlick writes science fiction thrillers for adult and young adult readers. He wrote the Rebel series

, which explores Annabelle Scott following her conscience in a world turned upside down. He wrote the Regina Shen series

, after abrupt climate change leads to the Great Collapse and a World Federation. Outcast Regina Shen tries to survive a storm and Federation agents pursuing her for her genome. Xenogeneic: First Contact

is about encounters with alien pilgrims aiming to take over Earth.
Tentative Date Time
Sunday, October 29th 9:30 AM
*Note: The information above is a draft provided by the presenter and may be different in the WeeM Booklet.
---
Deadlines
Registration - The deadline (October 12

th

) for advanced registration has expired. Join the fun at WeeM and register at the door if you haven't preregistered.
Excursions - The sign-up deadline for the Excursions was October 15

th

.

Vendor space

- The deadline to submit the contract was October 13

th

.

Lodging

- The deadline (October 20

th

) for the WeeM rate has expired.
Follow WeeM on Facebook and Twitter