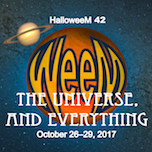 Qualify for discounted WeeM rates by registering today. Book your room by September 22nd and request the WeeM rate of $127. Sign up for the Excursions now!
HalloweeM 42: WeeM, The Universe, and Everything
October 26 – 29, 2017
Program Details*
Title
Procrastination: It's Not About Time
Description
Still procrastinating? Well, it's not that you are lazy or unmotivated, or a perfectionistic, or have some genetic defect. In fact, you may be one of 20% of people who are chronic procrastinators. See, everyone procrastinates but not everyone is a procrastinator. Here, the US leading researcher [APA's (American Psychological Association) "go to person"] for understanding the causes and consequences of Chronic Procrastination — Rev. Dr. Joseph Ferrari, DePaul University — provides enjoyable and educational insights [and, sells his book

for only $10]. Come, learn that procrastination is NOT about time… and show up early!
Presenter's Name
Dr. Joe Ferrari
Presenter's Bio
Rev. Dr. Joe Ferrari is a St. Vincent DePaul Distinguished Professor at DePaul University, Chicago, and considered the leading research scholar on the causes and consequences of chronic procrastination. A well sought after motivational speaker, Deacon Joe is a Fellow in five professional organizations including APA, APS, EPA, MPA, SCRA. DePaul awarded him the 2001 Excellence in Research plus the 2009 Excellence in Public Service; in 2016 ~ APA's (American Psychological Association) "Italian-American Distinguished Psychologist" award.
*Note: The information above is a draft provided by the presenter and may be different in the WeeM Booklet.
---
Deadlines
Registration - Discounts for advanced registration are available through October 12

th

. (Note: Full payment is required by the appropriate deadline to qualify for any discount).
Excursions - Sign up for either of the Excursions before October 12

th

. Since space is limited, the deadline may move up depending upon demand.
Lodging - The hotel is offering a WeeM rate of $127 through September 22

nd

, subject to availability. If the hotel block is full, please contact our WeeM Chair who will try to expand the block.
Follow WeeM on Facebook and Twitter