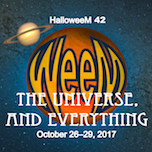 Preregistration is now closed but DON'T PANIC. Come to WeeM and register at the door. M‑Letter

and PAAG

are now available.
HalloweeM 42: WeeM, The Universe, and Everything
October 26 – 29, 2017
Preregistration is now closed. Come to WeeM and, if you haven't preregistered, please register at the door. If you preregistered but your payment was not received by October 12th, you will have to register at the door and no discounts for which you may have qualified will be honored.
Program Details*
Title
Procrastination: It's Not About Time
Description
Still procrastinating? Well, it's not that you are lazy or unmotivated, or a perfectionistic, or have some genetic defect. In fact, you may be one of 20% of people who are chronic procrastinators. See, everyone procrastinates but not everyone is a procrastinator. Here, the US leading researcher [APA's (American Psychological Association) "go to person"] for understanding the causes and consequences of Chronic Procrastination — Rev. Dr. Joseph Ferrari, DePaul University — provides enjoyable and educational insights [and, sells his book

for only $10]. Come, learn that procrastination is NOT about time… and show up early!
Presenter's Name
Dr. Joe Ferrari
Presenter's Bio
Rev. Dr. Joe Ferrari is a St. Vincent DePaul Distinguished Professor at DePaul University, Chicago, and considered the leading research scholar on the causes and consequences of chronic procrastination. A well sought after motivational speaker, Deacon Joe is a Fellow in five professional organizations including APA, APS, EPA, MPA, SCRA. DePaul awarded him the 2001 Excellence in Research plus the 2009 Excellence in Public Service; in 2016 ~ APA's (American Psychological Association) "Italian-American Distinguished Psychologist" award.
Tentative Date Time
Saturday, October 28th 10:30 AM
*Note: The information above is a draft provided by the presenter and may be different in the WeeM Booklet.
---
Deadlines
Registration - The deadline (October 12

th

) for advanced registration has expired. Join the fun at WeeM and register at the door if you haven't preregistered.
Excursions - The sign-up deadline for the Excursions was October 15

th

.

Vendor space

- The deadline to submit the contract was October 13

th

.

Lodging

- The deadline (October 20

th

) for the WeeM rate has expired.
Follow WeeM on Facebook and Twitter