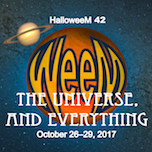 Preregistration is now closed but DON'T PANIC. Come to WeeM and register at the door. M‑Letter

and PAAG

are now available.
HalloweeM 42: WeeM, The Universe, and Everything
October 26 – 29, 2017
Preregistration is now closed. Come to WeeM and, if you haven't preregistered, please register at the door. If you preregistered but your payment was not received by October 12th, you will have to register at the door and no discounts for which you may have qualified will be honored.
Program Details*
Title
Preview of Mensa's 2018 Annual Gathering in Indianapolis
Description
The 2018 AG will be held in Indianapolis July 4-8, 2018 at the award-winning JW Marriott hotel in downtown Indy. Come for a short preview of why this AG will be one you won't want to miss. And if that's not enough, there MAY be door prizes involved.
Presenter's Name
Teresa Gregory
Presenter's Website
http://ag.us.mensa.org

Presenter's Bio
Teresa Gregory and Jan Pfeil Doyle have traded off being LocSec of Central Indiana Mensa for over 10 years. In a streak of (additional) questionable sanity, they applied to co-chair the 2018 AG in Indianapolis and were appointed. Now they're on a quest to show the world that Indy has more than corn and race cars.
Tentative Date Time
Saturday, October 28th 4:30 PM
*Note: The information above is a draft provided by the presenter and may be different in the WeeM Booklet.
---
Deadlines
Registration - The deadline (October 12

th

) for advanced registration has expired. Join the fun at WeeM and register at the door if you haven't preregistered.
Excursions - The sign-up deadline for the Excursions was October 15

th

.

Vendor space

- The deadline to submit the contract was October 13

th

.

Lodging

- The deadline (October 20

th

) for the WeeM rate has expired.
Follow WeeM on Facebook and Twitter