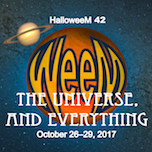 Qualify for discounted WeeM rates by registering today. Book your room by September 22nd and request the WeeM rate of $127. Sign up for the Excursions now!
HalloweeM 42: WeeM, The Universe, and Everything
October 26 – 29, 2017
Program Details*
Title
Brain Energy Metabolism: Implications for Alzheimer's Prevention and Treatment
Description
Scientific research has provided a new understanding of how the brain uses energy. Glucose is a well known energy source for brain cells, but the brain does not utilize it efficiently in those with Alzheimer's. An alternate source which is manufactured in the liver, called ketone bodies, is being explored for its therapeutic effects for a wide range of neurodegenerative disorders. Interestingly, it is possible for individuals to control the brain's use of these two fuels. We will explore the book: Alzheimer's Disease - What if there was a Cure? The Story of Ketones by Dr. Mary Newport.
Presenter's Name
Peter Kraus
Presenter's Bio
Peter Kraus has served as the monthly gathering Program Chair for Chicago Area Mensa, having selected something in the neighborhood of 300 speakers during his tenure. Now, as program co-chair, he has spent time researching medical issues. Surprisingly, there appear to be two subsets of research - one which seems to be promulgated by the commercial interests, and another (that is not featured in the major media) which contradicts, or supplants, the research of the commercial interests.
*Note: The information above is a draft provided by the presenter and may be different in the WeeM Booklet.
---
Deadlines
Registration - Discounts for advanced registration are available through October 12

th

. (Note: Full payment is required by the appropriate deadline to qualify for any discount).
Excursions - Sign up for either of the Excursions before October 12

th

. Since space is limited, the deadline may move up depending upon demand.
Lodging - The hotel is offering a WeeM rate of $127 through September 22

nd

, subject to availability. If the hotel block is full, please contact our WeeM Chair who will try to expand the block.
Follow WeeM on Facebook and Twitter