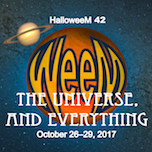 Qualify for discounted WeeM rates by registering today. Book your room by October 8th and request the WeeM rate of $127. Sign up for the Excursions now!
HalloweeM 42: WeeM, The Universe, and Everything
October 26 – 29, 2017
Program Details*
Title
Agile in Software—and Agile in the Real World
Description
Agile is the new buzz word. Agile and its accompanying Scrum framework are all the rage. But what is Agile, how has it changed software development, and how does it apply to non-software projects?
Presenter's Name
Beth Weiss
Presenter's Website
http://bethsblog.com

Presenter's Bio
Beth Weiss is a Certified Scrum Master, a Professional Scrum Master, and a Certified Business Analysis Professional—as well as a Mensan who likes to party and play games. She met her husband at HalloweeM in 2002.
*Note: The information above is a draft provided by the presenter and may be different in the WeeM Booklet.
---
Deadlines
Follow WeeM on Facebook and Twitter