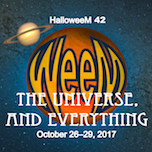 Qualify for discounted WeeM rates by registering today. Book your room by October 8th and request the WeeM rate of $127. Sign up for the Excursions now!
HalloweeM 42: WeeM, The Universe, and Everything
October 26 – 29, 2017
Program Details*
Title
It's All About the Communication, Stupid!
Description
Healthy relationships are all about communication. Learn techniques discovered by relationship experts like Dr. John Gottman in improving all of your important relationships: romantic, family, business, social.
Presenter's Name
PD Wadler
Presenter's Website
http://drpdwadler.com

Presenter's Bio
PD is a Licensed Clinical Psychologist in private practice in Chicago with over thirty years of experience helping individuals and couples have better relationships.
*Note: The information above is a draft provided by the presenter and may be different in the WeeM Booklet.
---
Deadlines
Follow WeeM on Facebook and Twitter