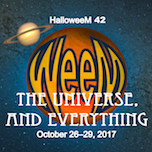 Preregistration is now closed but DON'T PANIC. Come to WeeM and register at the door. M‑Letter

and PAAG

are now available.
HalloweeM 42: WeeM, The Universe, and Everything
October 26 – 29, 2017
Preregistration is now closed. Come to WeeM and, if you haven't preregistered, please register at the door. If you preregistered but your payment was not received by October 12th, you will have to register at the door and no discounts for which you may have qualified will be honored.
Program Details*
Title
Coloring for Grownups
Description
Adult coloring books remain popular, although perhaps the peak has passed. Fortunately, I stocked up on great books while I could, so I can share them with you. Hundreds of coloring pages, artist-quality colored pencils, markers, and tools, and an educational handout about techniques, color theory, and pigment characteristics will all be provided. Bring your own task lamp and coloring stuff if you wish.
Presenter's Name
Carol Metzger
Presenter's Website
http://cfmdesigns.net

Presenter's Bio
I'm an artist with a background in science and anthropology. I make art out of just about anything. Painting, drawing, beadwork, metalwork, decoupage, knitting, quilting, dyeing and other fiber art. It would be difficult to name a craft I have not tried at least once. The ones I am good at are knitting, beading, and works on paper or canvas.
Tentative Date Time
Friday, October 27th 10 AM
*Note: The information above is a draft provided by the presenter and may be different in the WeeM Booklet.
---
Deadlines
Registration - The deadline (October 12

th

) for advanced registration has expired. Join the fun at WeeM and register at the door if you haven't preregistered.
Excursions - The sign-up deadline for the Excursions was October 15

th

.

Vendor space

- The deadline to submit the contract was October 13

th

.

Lodging

- The deadline (October 20

th

) for the WeeM rate has expired.
Follow WeeM on Facebook and Twitter