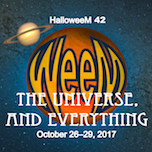 Preregistration is now closed but DON'T PANIC. Come to WeeM and register at the door. M‑Letter

and PAAG

are now available.
HalloweeM 42: WeeM, The Universe, and Everything
October 26 – 29, 2017
Preregistration is now closed. Come to WeeM and, if you haven't preregistered, please register at the door. If you preregistered but your payment was not received by October 12th, you will have to register at the door and no discounts for which you may have qualified will be honored.
Program Details*
Title
Book Discussion of Hitchhiker's Guide to the Galaxy
Description
It's our 42nd WeeM and since 42 is the answer to Life, the Universe, and Everything I was encouraged to try a book discussion of Hitchhiker's Guide to the Galaxy by many Mensans. So let's gather 'round a table and talk about one of most widely known SF titles ever! And maybe create Vogon poetry!
Presenter's Name
Stephen Metzger
Presenter's Bio
I have coördinated book discussions of Futures and Fantasies (the local SF&F SIG) for at least 20 years in Chicago Area Mensa.
Tentative Date Time
Saturday, October 28th 1:30 PM
*Note: The information above is a draft provided by the presenter and may be different in the WeeM Booklet.
---
Deadlines
Registration - The deadline (October 12

th

) for advanced registration has expired. Join the fun at WeeM and register at the door if you haven't preregistered.
Excursions - The sign-up deadline for the Excursions was October 15

th

.

Vendor space

- The deadline to submit the contract was October 13

th

.

Lodging

- The deadline (October 20

th

) for the WeeM rate has expired.
Follow WeeM on Facebook and Twitter