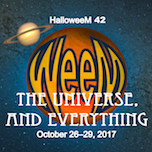 Preregistration is now closed but DON'T PANIC. Come to WeeM and register at the door. M‑Letter

and PAAG

are now available.
HalloweeM 42: WeeM, The Universe, and Everything
October 26 – 29, 2017
Preregistration is now closed. Come to WeeM and, if you haven't preregistered, please register at the door. If you preregistered but your payment was not received by October 12th, you will have to register at the door and no discounts for which you may have qualified will be honored.
Program Details*
Title
Five Simple Self-Care Techniques
Description
This interactive workshop will encourage you to care for yourself in the most simple, yet effective ways. These techniques don't take a lot of time or money. Wow! Now that's simple! During this workshop you will be guided through:
Simple self massage techniques
How to slow down and be mindful
Breathing techniques
Meditation Variations
Please come wearing comfortable clothes so you can sit on the floor and/or move around easily, have fun, and leave feeling totally in control of your self-care routine. This simple workshop is packed with power!
Presenter's Name
Sabrina Schottenhamel
Presenter's Website
http://www.betouchedmassage.com

Presenter's Bio
Sabrina Schottenhamel is a licensed massage therapist and speaker. Sabrina shares her message through Massage Therapy, presentations and workshops. A few of her speaking topics include: Three Keys to Unlock Your Speaking Abilities, The Productivity Push!, and Five Simple Self-Care Techniques. Her goal when she speaks is to share her joy and passion, and to help you improve your quality of life.
Tentative Date Time
Thursday, October 26th 8:30 PM
*Note: The information above is a draft provided by the presenter and may be different in the WeeM Booklet.
---
Deadlines
Registration - The deadline (October 12

th

) for advanced registration has expired. Join the fun at WeeM and register at the door if you haven't preregistered.
Excursions - The sign-up deadline for the Excursions was October 15

th

.

Vendor space

- The deadline to submit the contract was October 13

th

.

Lodging

- The deadline (October 20

th

) for the WeeM rate has expired.
Follow WeeM on Facebook and Twitter