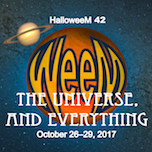 Preregistration is now closed but DON'T PANIC. Come to WeeM and register at the door. M‑Letter

and PAAG

are now available.
HalloweeM 42: WeeM, The Universe, and Everything
October 26 – 29, 2017
Preregistration is now closed. Come to WeeM and, if you haven't preregistered, please register at the door. If you preregistered but your payment was not received by October 12th, you will have to register at the door and no discounts for which you may have qualified will be honored.
Program Details*
Title
The Return of the Vinyl Junkie
Description
Will discuss record collecting and how it's returned in full force; the care, feeding, and sources of vinyl and hi-fi equipment, and where to find and what to expect to pay for recordings. Will also discuss types of music that are collectible and approximate value. Will briefly discuss history of phonograph records. I'll show samples of jacket art and play clips of early, scarce recordings by artists who later "made it big."
Presenter's Name
Mikey Wolstein
Presenter's Bio
Retired; 43 years in electronics engineering. Have a passion for hi-fi sound and music. Began enjoying popular music and collecting vinyl in the late 1950s.
Tentative Date Time
Saturday, October 28th 3 PM
*Note: The information above is a draft provided by the presenter and may be different in the WeeM Booklet.
---
Deadlines
Registration - The deadline (October 12

th

) for advanced registration has expired. Join the fun at WeeM and register at the door if you haven't preregistered.
Excursions - The sign-up deadline for the Excursions was October 15

th

.

Vendor space

- The deadline to submit the contract was October 13

th

.

Lodging

- The deadline (October 20

th

) for the WeeM rate has expired.
Follow WeeM on Facebook and Twitter