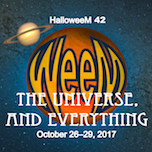 Preregistration is now closed but DON'T PANIC. Come to WeeM and register at the door. M‑Letter

and PAAG

are now available.
HalloweeM 42: WeeM, The Universe, and Everything
October 26 – 29, 2017
Preregistration is now closed. Come to WeeM and, if you haven't preregistered, please register at the door. If you preregistered but your payment was not received by October 12th, you will have to register at the door and no discounts for which you may have qualified will be honored.
Program Details*
Title
Hands-On Craft: Making Paracord Bracelets
Description
I will provide paracord and teach you how to make a paracord bracelet! Individual instruction as needed, to make a cobra-stitch bracelet, from one 10' length of cord, woven around a doubled 2' cord. My usual design does not include a buckle, but fastens via knot-and-loop. I have a lot of different colors, so you can choose your own! Same idea as my demonstration at previous WeeMs.

Not for adults.
Presenter's Name
Jason Catena
Presenter's Bio
Lots of practice making paracord bracelets, and teaching kids to make them.
Tentative Date Time
Saturday, October 28th 3 PM
*Note: The information above is a draft provided by the presenter and may be different in the WeeM Booklet.
---
Deadlines
Registration - The deadline (October 12

th

) for advanced registration has expired. Join the fun at WeeM and register at the door if you haven't preregistered.
Excursions - The sign-up deadline for the Excursions was October 15

th

.

Vendor space

- The deadline to submit the contract was October 13

th

.

Lodging

- The deadline (October 20

th

) for the WeeM rate has expired.
Follow WeeM on Facebook and Twitter