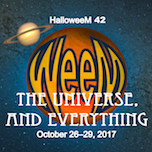 Preregistration is now closed but DON'T PANIC. Come to WeeM and register at the door. M‑Letter

and PAAG

are now available.
HalloweeM 42: WeeM, The Universe, and Everything
October 26 – 29, 2017
Preregistration is now closed. Come to WeeM and, if you haven't preregistered, please register at the door. If you preregistered but your payment was not received by October 12th, you will have to register at the door and no discounts for which you may have qualified will be honored.
Program Details*
Title
Learn to Lindy Hop (a.k.a. Swing Dance)
Description
In this brief introduction to Lindy Hop, (a.k.a. Swing Dance), Debra Ann Sylvia, with some help by local Mensan Steve Rider, will guide you through the basics of what has been called the United States' only original folk dance. Wear comfortable shoes; we do NOT recommend sneakers or similar "grippy" soles.
Presenter's Name
Debra Sylvia
Presenter's Bio
Debra Ann and Steve Rider were both bitten by the swing dance bug of the late 1990s, dancing multiple times a week for several years. Debra Ann has both taught and performed in various troupes, and is excited to be returning for a second year, sharing her skills with Mensa.
Tentative Date Time
Saturday, October 28th 7 PM
*Note: The information above is a draft provided by the presenter and may be different in the WeeM Booklet.
---
Deadlines
Registration - The deadline (October 12

th

) for advanced registration has expired. Join the fun at WeeM and register at the door if you haven't preregistered.
Excursions - The sign-up deadline for the Excursions was October 15

th

.

Vendor space

- The deadline to submit the contract was October 13

th

.

Lodging

- The deadline (October 20

th

) for the WeeM rate has expired.
Follow WeeM on Facebook and Twitter