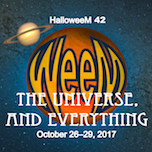 Preregistration is now closed but DON'T PANIC. Come to WeeM and register at the door. M‑Letter

and PAAG

are now available.
HalloweeM 42: WeeM, The Universe, and Everything
October 26 – 29, 2017
Preregistration is now closed. Come to WeeM and, if you haven't preregistered, please register at the door. If you preregistered but your payment was not received by October 12th, you will have to register at the door and no discounts for which you may have qualified will be honored.
Program Details*
Title
Practical Artificial Intelligence, Facts & Fallacies
Description
Science fiction and inflated doomsday predictions have gripped the culture's imagination as to the dangers and opportunities of AI and machine learning. Jump into the deep end with a data science practitioner to discuss the current state of AI in a corporate setting, discussing some of the basic philosophy, mathematics, and big data methodologies that underpins the current incarnation of machine learning. Explore the tricks developers employ to create the guise of a ghost in the machine.
Presenter's Name
John Wood
Presenter's Bio
John Wood has been a practitioner in data science for the last four years, deploying machine learning algorithms for analysis on client interactions and financial data for TD Ameritrade and more recently, LiquidMetrix (whose clients range from bulge-bracket investment banks to the largest hedge funds / pension funds).
Tentative Date Time
Friday, October 27th 1:30 PM
*Note: The information above is a draft provided by the presenter and may be different in the WeeM Booklet.
---
Deadlines
Registration - The deadline (October 12

th

) for advanced registration has expired. Join the fun at WeeM and register at the door if you haven't preregistered.
Excursions - The sign-up deadline for the Excursions was October 15

th

.

Vendor space

- The deadline to submit the contract was October 13

th

.

Lodging

- The deadline (October 20

th

) for the WeeM rate has expired.
Follow WeeM on Facebook and Twitter