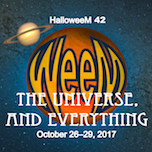 Preregistration is now closed but DON'T PANIC. Come to WeeM and register at the door. M‑Letter

and PAAG

are now available.
HalloweeM 42: WeeM, The Universe, and Everything
October 26 – 29, 2017
Preregistration is now closed. Come to WeeM and, if you haven't preregistered, please register at the door. If you preregistered but your payment was not received by October 12th, you will have to register at the door and no discounts for which you may have qualified will be honored.
Program Details*
Title
Improv for Fun and Profit!
Description
Have you ever wondered what makes improvisational theater work and how could those skills be applied to your everyday life? This highly participatory workshop will demystify improv's inner workings as we have fun doing things like improving teamwork skills, learning to be successful in a chaotic environment, thinking creatively in the moment, and much more. This workshop is limited to the first 20 people who sign-up or show up.
Presenter's Name
Steve Duberchin
Presenter's Website
http://www.improvthis.com

Presenter's Bio
Steve earned his MBA from DePaul University, but he found his passion when he took his first class at the Second City Training Center in 2002. He&rsquols been through many of Chicago&rsquols best Improv programs including ComedySportz, Laugh Out Loud Theater, and New Choice Improv. Steve has performed everything from bar-prov to headlining on the main stage and he&rsquols run the gambit behind the scenes as well doing things like sketch writing, directing, coaching, and stage managing.
Tentative Date Time
Saturday, October 28th 10:30 AM
*Note: The information above is a draft provided by the presenter and may be different in the WeeM Booklet.
---
Deadlines
Registration - The deadline (October 12

th

) for advanced registration has expired. Join the fun at WeeM and register at the door if you haven't preregistered.
Excursions - The sign-up deadline for the Excursions was October 15

th

.

Vendor space

- The deadline to submit the contract was October 13

th

.

Lodging

- The deadline (October 20

th

) for the WeeM rate has expired.
Follow WeeM on Facebook and Twitter