For Chicago Area Mensa Members
---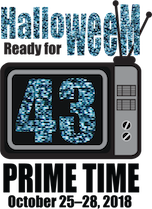 ---
HalloweeM 43: Ready for Prime Time
Only 37 days until HalloweeM 43: Ready for Prime Time!

Join over 500 Mensans here in Chicago for an amazing, family-friendly weekend. There are lots programs to stimuate your mind, plenty of games and contests to challenge you, and many opportunitys to have fun, dance, converse and just enjoy yourself. Many of the pun-tastic costume parade entries will make you laugh (or groan). Meals, snacks, and beverages are included with the exception of dinner on Saturday. Click here for all the details.

Mensans, please register if you haven't already done so. You don't want to miss the terrific program and this incredibly fun experience. October 12th is the last day you can register online and qualify for a discount.
And at this time, the hotel is offering an amazing WeeM rate of only $107 until September 30th. So book your room today. If the hotel block is full, please contact our WeeM Chair

who will try to expand the block.
Time and space are running out — sign up for one of the Excursions now!
---
---
By clicking on any of the menu items on the left, you can access all the information that is of particular interest to Chicago Area Mensa members. Most of the information is publicly viewable, but those that contain personal information, such as phone numbers and addresses, require your Mensa e‑mail address and password.
In the public section, you'll find information about Chicago Area Mensa officers past and present, and Service Awards.
Chicago Members' Area
To access "Password Protected" information, enter the same information you use to access the AM website.
Use the e‑mail address on file at the AM website and the same password you use to gain access to the AM website. Password problem

?
In the password-protected section, Chicago Area Mensa Members may get information about any of the following:
Browse and Enjoy!

Thanks for being our 7,050th visitor to Members Only.