For Chicago Area Mensa Members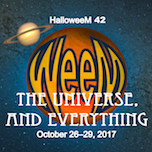 ---
HalloweeM 42: WeeM, The Universe, and Everything
'WeeM starts this Thursday!
Mensans, please come and register at the event if you haven't already done so. You don't want to miss the terrific program and this incredibly fun experience.
It's Halloween and you want to dress up and go to a party, of course. Well, it is rare that Halloween and the WeeM costume party both converge. The stars have aligned this year and this is a fun opportunity to join the largest Halloween party by attending the RG Friday, October 31st. See great costumes, participate in the contest (best & worst pun, traditional, etc), enjoy a delicious meal, imbibe if you like, meet Mensans from all over the country (even some from across the oceans), and dance the night away. It's the perfect party!
---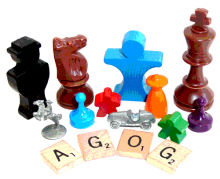 "A Gathering of Gamers"
Games, games, and more games!
Only 82 days until AGOG. Join your fellow Mensans on January 12th – 14th for fun and games.
Save the dates!! Online registration is not yet open but get all details now. You may register by mail if you wish or at HalloweeM.
Do you like games? Do you spend the entire WeeM weekend in the games room? Would you like to do again? No, we're not asking you to wait another year until WeeM 2018. Instead, we're saying you can do it again in January!!! Every winter, Chicago puts on AGOG — A Gathering of Gamers (this year, January 12th – 14th). It's a weekend-long gathering of just games. All the games we have at WeeM and more, because folks like you can bring your own to share. We provide food, non-alcoholic beverages and all the games you want for a reasonable price.
---
---
By clicking on any of the menu items on the left, you can access all the information that is of particular interest to Chicago Area Mensa members. Most of the information is publicly viewable, but those that contain personal information, such as phone numbers and addresses, require your Mensa email address and password.
In the public section, you'll find information about Chicago Area Mensa officers past and present, and Service Awards.
Chicago Members' Area
To access "Password Protected" information, enter the same information you use to access the AM website.
Use the email address on file at the AM website and the same password you use to gain access to the AM website. Password problem

?
In the password-protected section, Chicago Area Mensa Members may get information about any of the following:
Browse and Enjoy!

Thanks for being our 4,317th visitor to Members Only.