HalloweeM 45: The Vinyl Frontier
October 29 – November 1, 2020
Check this site in the spring/early summer for information about our 45th WeeM!
Programs
As usual there will be many different programs available — so many you'll find it difficult to choose and wish you had a way to view all of them on demand. But, like the days before VCRs or DVRs, you'll just have to choose. In addition to the multiple program track, there are tournaments, contests, and 24-hour gaming.
This year expect new programs as well some returning favorites, and much more. It's still early days, but so far, this year's topics (the links give more details) include:

---
---
Last year's topics (the links give more details) included:
---
---
Some changes may will occur between now and WeeM but you can expect most of the programs listed above and below and, of course, more that haven't been finalized. Also don't forget, there will be Tournaments in addition to the programs and on Thursday, before the programs start, Excursions.
Expect the following traditional events:
Thursday
Excursions

There will be excursions for those who arrive early.

Volunteer!

HalloweeM setup starts at ~3 PM at the hotel. Sign up early and earn double points for the Sunday morning drawing held during the Awards & Announcements Presentation.

Programs

Expect the first program to start at ˜6 PM

Tournaments

The first tournament will begin at ˜6 PM

Dinner

Gather in the hospitality area and catch up with your friends while enjoying a buffet including tasty sides at ˜7 PM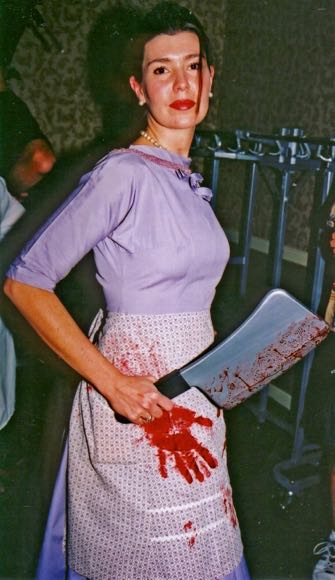 Can you guess?
Friday
Costume Parade


Kids Costumes

The Friday night costume party is one of the unique events that sets Chicago Area Mensa's RG apart from all the others. Mensan grown-ups take dressing up to a new level. Costumes range from fanciful to funny to elaborate and elegant, but the thing for which Mensans are best known are the pun and word-play costumes. In all of them, Mensa-style creativity is obvious. Bring your costume, sense of humor, and your wits, because our puns will keep you guessing and giggling all night long. Make sure to consider this year's theme, ripe for pun-filled humor! Puns, however, are not a requirement. Feel free to show up in a costume of your choosing. View our pictures to see costumes from 'WeeMs past.

The kids costume parade will precede the adult costumes as in past years to encourage more adults to attend and support our youth.
Saturday
Sunday
Daylight Saving Time ends at 2 AM. Remember to reset your clocks back.

Chicago Area Mensa Board Meeting

CAM members are invited to attend.

Awards & Announcement

Find out who won the volunteer raffle — volunteers winning smaller cash amounts must be present. Hear about the AG and other RGs. Congratulate several deserving members who have been volunteering in our organization upon whom AML service awards will be conferred. And the Hell's M's usually announce the weekend's party animal.

Amazing Race: WeeM Style Tournament




Join us for the "Amazing Race" for Mensans! Based upon the popular TV reality show, teams of 2-4 competitors complete a variety of tasks, some cerebral, some lighthearted, on their way to the final "Pit Stop" and victors' bragging rights. Our version is designed for all ages and activity levels, and is sure to be one of the most memorable things you'll do this weekend!
Past Programs
Also, you can access our archives to download the full program booklet for past HalloweeMs: 2020, 2019, 2018, 2017, 2016, 2015, 2014, 2013, 2012, 2011, 2010, 2009, 2008, 2007, 2006, and 2005. (All are in PDF format.)