HalloweeM 44½: A WeeM-Away
October 30 – November 1, 2020
Programs
There will be quite a few different programs available. Obviously, the virtual nature of this year's HalloweeM limits the types of programs. We have the latest Programs At A Glance (PAAG) if you'd like to peruse. Please keep in mind, of course, that this is a working copy, and offerings are subject to change. In addition to the program track, there is 24-hour online gaming. This year, HalloweeM will be virtual via Discord . Find out how to get set-up on our WeeM Discord page.
Want to make a presentation to your fellow Mensans? Or run a tournament? Have some information or a topic you'd like to share or wishing to see Mensans compete? Fill out our Speaker/Tournament Form. We will be accepting form submissions for this HalloweeM through Wednesday, October 28th. Should you have any questions, contact our Program Chair or our Tourney Chair regarding adding your program or tournament, respectively.
All submissions will be reviewed and approved based upon content and ability to schedule.
It's still early days, but so far, this year's topics (the links give more details) include:

---
---
Some changes may may occur between now and WeeM but you can expect most of the programs listed above and below and, of course, more that haven't been finalized.
Expect the following traditional events: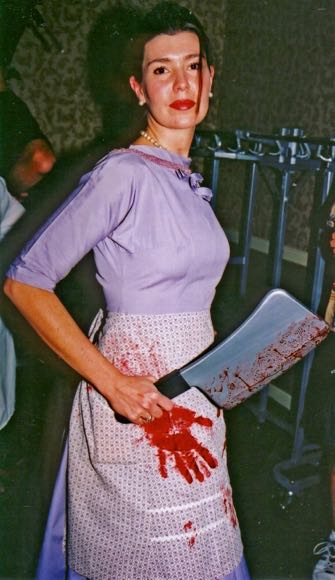 Can you guess?
Friday
Costume Parade


Kids Costumes

The Friday night costume party is one of the unique events that sets Chicago Area Mensa's RG apart from all the others. Mensan grown-ups take dressing up to a new level. Costumes range from fanciful to funny to elaborate and elegant, but the thing for which Mensans are best known are the pun and word-play costumes. In all of them, Mensa-style creativity is obvious. Bring your sense of humor, and your wits, because our puns will keep you guessing and giggling all night long. Make sure to consider this year's theme, ripe for pun-filled humor! Puns, however, are not a requirement. Feel free to show up in a costume of your choosing but please try to submit a video beforehand; find out the details here. View our pictures to see costumes from 'WeeMs past.
Sunday
Past Programs
Also, you can access our archives to download the full program booklet for past HalloweeMs: 2019, 2018, 2017, 2016, 2015, 2014, 2013, 2012, 2011, 2010, 2009, 2008, 2007, 2006, and 2005. (All are in PDF format.)
Deadlines
Enter the Costume Contest now! Record a video of your costume(s), as an individual or group. Once you're happy with it, submit it for entry into the Costume Contest. The deadline is Sunday, October 25

th

.
Follow WeeM on Social Media