RSVPs:
To protect our members' privacy, contact information has been removed from this listing but is available on our website for members only.
------------ Chicago Mensans -----------
Sign up for the Event e‑mail list to get e‑mails about upcoming events, including ones that did not make it into ChiMe, or to get notified of any special events or last minute changes.
Activities Bulletin
May 2019
If you've joined Chicago Mensa Meetup

, also check out the Calendar

, which may have additional events posted that are not in the May ChiMe

. (And if you haven't, please consider signing up

for this great tool — an active Mensa number will be requested to verify your Mensa membership before you can be added to our CAM Meetup group.) Meetup will have the same RSVP contact information that is on our website and in ChiMe. On Meetup, even though events may have an RSVP option, a few CAM event coördinators are not members of Meetup. You may RSVP there to let other CAM Meetup members know you are attending, to easily add the event info to your calendar, and to set up notifications for the events, but you should always contact the CAM event coördinator as specified.
In addition to the events listed below (which includes all those listed in ChiMe and usually all those listed on Meetup

), some area groups and the youth-related groups have their own closed Facebook

group where they may publish events which are not included on our website. Contact South Suburban Coördinator Jeudi or Southwest Area Group (SwAG) Coördinators Kevin and Steve for information on how to join their respective Facebook

group. Contact Gifted Youth Coördinators Stacey/Stephen or the Teen Coördinator to join their Facebook

groups.

1/Wednesday
ChiMe Activity Bulletin and Advertising Deadlines. Last day for these submissions to the June ChiMe.

ChiMe Editorial Deadline. Last day for editorial submissions to the June ChiMe. Please submit original articles, insights, puzzles, brain teasers, or short poems. Your fellow Chicago Area Mensans would love to hear from you.
2/Thursday
Downtown Lunch 1 PM. Join us for lunch at Petro's Restaurant located at Randolph and LaSalle (160 N. LaSalle St. in Chicago). To confirm the location and for reservations, contact event coördinator Gene E. before 11 AM.

Southeast Side Mensa Social (SEMinalS) 7 PM. Mensa dinner at Cocula South Chicago located at 8847 S. Commercial Ave. in Chicago. We will probably be in the back room near the windows nearest Commercial Ave. I will try to display a flag of some kind. For more information, contact Carol M. (her contact information can also be found in May ChiMe). This event will recur on the first Thursday of the month.
4/Saturday
5/Sunday
| | |
| --- | --- |
| | Cinco de Mayo |
6/Monday
Breakfast in Oakbrook 10:30 AM. Breakfast at Blueberry Hill Breakfast Café, 3041 Butterfield Rd. in Oak Brook. Eggs, pancakes, crepes, Belgium waffles, stuffed French toast, and more. The restaurant is located in a strip mall on the south side of Butterfield Road, west of Meyers Road, across the street from Fountain Square. Ask for Ken's table. RSVP to Ken L.
New Event!!
7/Tuesday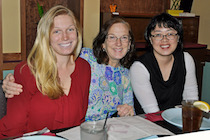 Northern Exposure
8/Wednesday
Northern Exposure: North Suburban 6:45 PM. Join us at one of our long standing favorites, The Green Basil in Vernon Hills! The address is 701 N. Milwaukee Ave. #204, Vernon Hills. "The Green Basil is an elegant yet affordable Thai dining experience featuring recipes handed down through the generations. It is a balance of tasteful upscale white tablecloth dining in a comfortable setting." Please RSVP (no later than 10 AM) to our North Suburban Coördinator Mike B., so he can reserve a big enough table; also let him know if you need to cancel, even if it's last minute, so the restaurant can change the seating and doesn't wait until everyone shows up to take orders. "Sanuk!"
Time Change!!
10/Friday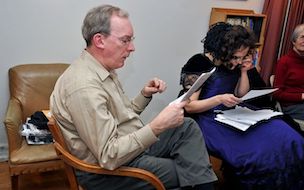 Poetry SIG
Poetry Discussion 7:30 PM. Contact Joe D., the SIG coördinator, for the contact information of the person selecting and providing copies of the poems and of the host(s), or for general information. This event is usually held on the second Friday of the month.
11/Saturday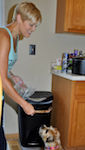 SwAG Session
SwAG Session 4 PM. Join the Southwest Area Group for its monthly, laid-back time together with food and talk of any imaginable topic. No pets — and please do not ask if an exception can be made. End-time is 11 PM promptly. We meet at Kevin's home (aka SwAG HQ) on Windstone Dr. in Plainfield. If possible, please bring a small dish to share. RSVP by one week prior (Saturday, May 4th) is required. Kevin B.'s contact information is on our website. Please see the Southwest Area Group Facebook page for information about this and other SwAG events; contact the Southwest Area Coördinators to find out how to join. We've been meeting on the second Saturday of the month. Hope to see you there!
12/Sunday
| | |
| --- | --- |
| | Mother's Day |
Futures & Fantasies 2:15 PM. F&F gives itself a mental STIPEND (Sci Tech In Plain English — Never Dull) by discussing Darwin's Ghost: The Origin of Species Updated, in which geneticist Steve Jones — Britain's Carl Sagan — uses current scientific knowledge, Darwin's logic, and contemporary examples (e.g. the AIDS virus, American Kennel Club rules) to show the "power and immediacy" of Darwin's ideas. Filled with anecdotes, humor and the very latest research, Darwin's Ghost is a popular, readable and comprehensive account of the science that makes life make sense. The discussion will take place in Conference Room G on the 3rd floor of the Oak Park Public Library, 834 Lake Street in Oak Park. Water, soda and light snacks acceptable. To RSVP, or for more information about this event and/or SIG, contact Steve M., the SIG coördinator. There will also be a vote on future discussions. F&F usually meets on the second Sunday of most odd-numbered months.

Rainbow SIG Potluck 5:30 PM. Dale W. and Jim C. are hosting a Potluck in their home on the northside of Chicago. BYOB and plan on bringing a dish to share. Please contact Jim C. by Friday, May 10th to RSVP. Parking on the street is reasonable. Exit at the CTA Red Line Granville stop, or use the CTA Broadway Ave bus or CTA Clark Street bus for public transportation. . To find out more about this SIG, also contact Jim, the SIG coördinator.
14/Tuesday
Tasty Tuesday Table Treats 7 PM. This month we dine at Chandler's Chophouse, 401 N. Roselle Rd. in Schaumburg. The restaurant is in a golf club on the east side of Roselle, south of Higgins (Rt. 72) and north of Schaumburg Rd. The menu includes steak, ribs, chicken, seafood, sandwiches, salads, etc. Weather permitting, we will dine outdoors. Order whatever you wish; the GOBS Trust subsidy will be ½ of your total (food, drink, tax, and tip) up to $30 (maximum subsidy is $15). You are responsible for the balance, payable in cash only. I [Ken] will collect a $15 cash deposit per person prior to dinner. After dinner, the totals will be calculated, and you will either receive a refund or pay any overage. This event is open to Chicago Area Mensa members and one non-member guest and is limited to 10 people. . If you RSVP by email or phone, your reservation is not confirmed until you receive an email confirmation from me. RSVP to Ken L..
16/Thursday
17/Friday
Central Indiana Mensa OMG! held today through Sunday, May 19th, at the Versailles State Park at 1387 U.S. 50 East in Versailles, Indiana. An outdoor excursion to a group of cabins in the woods. Reasonably described as "camping-lite," the Outdoor Mensa Gathering (or OMG!) is a trip to the great outdoors of Indiana, with a campfire, hiking, board games, card games, guided discussions, and other activities. You get food, lodging, scenery, and more. See their flyer and visit the Mensa of Indiana website , which will be updated as more details become available.
Animae Central (ACen) held today through Sunday, May 19th at the Donald E. Stephens (DES) Convention Center at 5555 N. River Rd. in Rosemont and at the Hyatt O'Hare. Enjoy the Masquerade, come as your favorite character, see the special guests and performers. For more information, visit their website. Find our Mensa table and say "Hello."
Public Event!!
18/Saturday
Conservatives Lunch 11:30 AM. Join other members of the Mensan cell of the Vast Right-Wing Conspiracy for lunch and "secret planning" at The Patio, 2780 S. Highland Ave. in Lombard. The Patio is on the NW corner of Butterfield and Highland, but you can enter only from Highland. Look for our reserved section in the northeast corner of the restaurant. RSVPs appreciated. Open to non-Mensans; bring a conservative friend. For more info, contact Jim Z. the event coördinator.

Beverly Area Saturday Salon (B.A.S.S.) ~Noon. Spontaneous conversation in far SSW Chicago, approximate vicinity of 103rd St. & Western Ave. Please contact Rick E. the Beverly Area Coördinator, for this month's location and the exact time as well as more information; if e‑mailing, put "BASS" in the subject line. Usually recurs on the 3rd Saturday of the month, about midday.

Chinese on Saturdays 6 PM. We meet at Lao Sze Chuan House, 1331 Ogden Ave. in Downers Grove. Come for good food, good conversation, and occasionally some slightly warped humor. Each month we present a selection from the Darwin Awards, News of the Weird, or similar. Please RSVP by 2 PM via e‑mail, Meetup, or phone number. For those using the phone or whose Meetup messaging is blocked, provide a way you can be contacted about any last-minute changes to the event. Walt L.'s contact information can be found in the May ChiMe or on our website.
Our next Monthly Gathering is on July 27th.
The July Monthly Gathering will be held at the
North Park University,
5000 N. Spaulding Ave., Chicago, IL 60625

The locations of the MGs vary.
South Bend Mensa Dinner 6 PM. Contact Gary L., the South Bend Area Coördinator of Fort Wayne, Indiana Mensa, for location information. His contact information is available here on our website or in the May ChiMe.

Monthly Gathering
Our May Monthly Gathering will be held North Park University
5000 N. Spaulding Avenue in Chicago.
The gathering will be held in the Magnuson Campus Center (Building 16) which is behind (west of) the building (Burgh Hall) on Spaulding. Campus security will not ticket any of us who are parked in student parking. The Monthly Gathering directions section has more detailed information about parking and transit as well as a link to the map of the campus. Please note that we have this venue only until midnight, so plan accordingly. There will be a parent-child play room available. This gathering is open to the general public. So if you're interested in learning more about Chicago Mensa, come join us. There is an admissions fee to help cover costs.


Monthly Gathering

| | |
| --- | --- |
| Test: | 4 PM. |
| Business Meeting: | 5 PM. |
| Game room opens: | 6 PM. |
| Program: | 7:30 PM. |
| Party: | 8:30 PM - Midnight. |

Get involved! Chicago Mensa needs you. We're looking for volunteers to fill some of the open positions listed both in the back of ChiMe or on the List of Officers. Or consider watching the children at the MG for a fee. You can also view the job descriptions and the required qualifications. Or try your hand at writing an article for ChiMe, submitting a photo, or creating a puzzle; see our Submission Guidelines for contact information and deadlines.

Program Topic: Abraham Lincoln: "A New Birth of Freedom"
Lincoln impersonator Kevin Wood returns and provided the following: "Mr. Lincoln shares his ever-evolving perspectives on the subjects of slavery, emancipation, and the relationship between the white and black races during his times. He gives a brief summary of the long history of slavery in North America, focusing especially on the great debates over slavery at the time of the formation of the United States and during the subsequent 80 years. "
See the full write-up in our May ChiMe.
MG Earlier to Avoid Memorial Day Weekend!!
19/Sunday


W-Sub Sundays
West Suburban Sundays Noon. Join us for Sunday lunch in the southwest suburbs at the Major Restaurant at 301 W. Ogden Ave. in Westmont. The restaurant has a large variety of breakfast, lunch, and brunch items, reasonably priced. Please contact John or Betty N., the West Suburban Coördinators, by 2 PM on Saturday, May 18th and let them know if you are coming. Their contact information is also in the May ChiMe. This event recurs on the third Sunday of the month.


Ethnic Dining

Ethnic Dining: Middle Eastern 6 PM. Join us for a family-style dinner at Sheba Yemeni Restaurant located at 6410 N. Claremont Ave. in Chicago (just east of the Devon & Western intersection in West Ridge). One non-Mensan guest may accompany each member at the GOBS-subsidized cost of $20, but additional guests will be charged the full price of $40. Reservations are requested no later than noon Friday, May 17th; attendance is limited. The CTA Western Ave 49B Devon bus stop and the CTA Devon Ave 155 Western bus stop are both about a block from the restaurant. Contact Carey S. directly and include 1) your full name, 2) the names of any guests, and 3) the guest's Mensa membership status. If you don't receive a confirmation e‑mail, try again. If you need to cancel, let Carey know ASAP since your fellow Mensans may be waitlisted and would love your spot. Please try to avoid cancelling in the last 24 hours, but if you must, contact Carey by mobile phone, which you may also use if you are lost or will be late. If possible, text first, then call, as he may not hear it ring. See article in the May ChiMe. For Ethnic Dining notifications, updates, and all the details, sign up for the Ethnic Dining E‑Mails.
21/Tuesday
Breakfast in Mt. Prospect 10 AM. We meet at at Jelly Café located at 1784 W. Golf Rd. in Mt. Prospect. Diverse breakfast menu includes eggs, benedicts, omelettes, scramblers, skillets, french toast, pancakes, crepes, breakfast sandwiches, waffles, oatmeal, etc. RSVP to Ken L. no later than 24 hours before the event. This event will usually recur on the last Tuesday of the month.

Downtown Lunch 1 PM. Join us for lunch at Petro's Restaurant located at Randolph and LaSalle (160 N. LaSalle St. in Chicago). To confirm the location and for reservations, contact event coördinator Gene E. before 11 AM.


WSW Dinner
Near West-Southwest (WSW) Mensans Dinner 6:30 PM. This month, we enjoy dining at P.J. Klem's located at 8000 Ogden Ave. in Lyons (intersection of Ogden and Joliet Avenues). Spouses, dates, and significant others are also welcome. Reservations are appreciated. Please contact Jay V. so he can give the restaurant an accurate headcount. This event usually recurs on the third Tuesday of the month.
Venue Change Since Publication in ChiMe!!
22/Wednesday
Cheddar Curtain Area Dinner 7 PM. Please join us for our monthly feast, bringing together Mensans from both sides of the Illinois/Wisconsin state line. This month, we'll meet at Kenosha's Tuscany Bistro, located at 7410 118th Ave. in Kenosha (just off Exit 344/US-50 on I-94, kitty-corner from Woodman's grocery store). Please RSVP via e‑mail by 10 AM the morning of the dinner so I [Janice] can reserve us a big enough table. This event recurs on the fourth Wednesday of most months.
27/Monday
| | |
| --- | --- |
| | Memorial Day |
Memorial Day Luncheon 11:30 AM. This luncheon is for Mensans who are not interested in the traditional outdoor events of summer holidays or who wish to supplement them with some good conversation along with varied and tasty food Join us at the Bakers Square at 1319 W. North Ave. in Melrose Park for good conversation along with varied and tasty food in an informal setting. Mensans who are new to Chicago Area Mensa are especially welcome. Bakers Square sometimes will not issue separate checks. So, be prepared to pay with cash, which the host will gather and give to the restaurant's cashier. by 11:30 PM on Sunday, May 26th (you must be able to receive messages on Meetup). Since there is a guest limit of 10, you will get a message in response to your RSVP saying whether you are confirmed for the luncheon or whether the guest limit had previously been reached. Please update Meetup and send a message if you need to cancel so someone else who may be waitlisted can have your spot.
Learn more & RSVP @ Chicago Mensa Meetup.
Meetup Event Not in ChiMe and at a Different Location!!
28/Tuesday
Sterling/Rock Falls/Dixon Dinner 6 PM. After a long winter hiatus, the group will meet for dinner at a venue TBA. For the location, more information, or to get on our e‑mail list, please send a message to Dave L. the Rockford Area Coördinator. This event is usually scheduled on the last Tuesday of the month from May through September.
30/Thursday
* * * * *
1 June
/

Saturday
ChiMe Activity Bulletin and Advertising Deadlines. Last day for these submissions to the July ChiMe.

ChiMe Editorial Deadline. Last day for editorial submissions to the July ChiMe. Please submit original articles, insights, puzzles, brain teasers, or short poems. Your fellow Chicago Area Mensans would love to hear from you.
May
1
2
3
4
5
6
7
8
9
10
11
12
13
14
15
16
17
18
19
20
21
22
23
24
25
26
27
28
29
30
31