RSVPs:
To protect our members' privacy, contact information has been removed from this listing but is available on our website for members only.
------------ Chicago Mensans -----------
Sign up for the Event e‑mail list to get e‑mails about upcoming events, including ones that did not make it into ChiMe, or to get notified of any special events or last minute changes.
Activities Bulletin
September 2019
If you've joined Chicago Mensa Meetup

, also check out the Calendar

, which may have additional events posted that are not in the September ChiMe

. (And if you haven't, please consider signing up

for this great tool — an active Mensa number will be requested to verify your Mensa membership before you can be added to our CAM Meetup group.) Meetup will have the same RSVP contact information that is on our website and in ChiMe. On Meetup, even though events may have an RSVP option, a few CAM event coördinators are not members of Meetup. You may RSVP there to let other CAM Meetup members know you are attending, to easily add the event info to your calendar, and to set up notifications for the events, but you should always contact the CAM event coördinator as specified.
In addition to the events listed below (which includes all those listed in ChiMe and usually all those listed on Meetup

), some area groups and the youth-related groups have their own closed Facebook

group where they may publish events and details of events which are not included on our website. Contact South Suburban Coördinator Jeudi or Southwest Area Group (SwAG) Coördinators Kevin and Steve for information on how to join their respective Facebook

group. Contact Gifted Youth Coördinators Stacey/Stephen or the Teen Coördinator to join their Facebook

groups.
1 /Sunday
ChiMe Activity Bulletin and Advertising Deadlines. Last day for these submissions to the October ChiMe.

ChiMe Editorial Deadline. Last day for editorial submissions to the October ChiMe. Please submit original articles, insights, puzzles, brain teasers, or short poems. Your fellow Chicago Area Mensans would love to hear from you.
2 /Monday
Labor Day Luncheon 11:30 AM. This luncheon is for Mensans who are not interested in the traditional outdoor events of summer holidays or who wish to supplement them with some good conversation along with varied and tasty food. Join us at the Bakers Square at 1319 W. North Ave. in Melrose Park for an informal get together. In addition to the varied and tasty food, this low-key get-together should appeal to those Mensans either who are new to the Chicago area or who just want some stimulating conversation before going on to other activities. Cash only. RSVP by 11:30 AM on Sunday, September 1st, but earlier is advised given the number of attendees is limited. You will get a response confirming whether you have a spot provided you have enabled Meetup messages; if you cannot receive Meetup messages, you will not be able to enjoy this luncheon.
Learn more & RSVP @ Chicago Mensa Meetup.
Meetup Event not in ChiMe!!
5 /Thursday
Southeast Side Mensa Social (SEMinalS) 7 PM. Mensa dinner at Cocula South Chicago located at 8847 S. Commercial Ave. in Chicago. We will probably be in the back room near the windows nearest Commercial Ave. I will try to display a flag of some kind. For more information, contact Carol (her contact information can also be found in the September ChiMe). This event will recur on the first Thursday of the month.
8 /Sunday
Odd Adventures: Morton Arboretum 9:30/10:30 AM. This month's excursion will be at the Morton Arboretum, located at 4100 IL-53 in Lisle. We will take a one hour tram ride, have a (bring/buy your own) picnic lunch, and then you'll be free to wander the Arboretum. The non-subsidized cost is $24/person for the entrance fee and the one hour tram ride. We have a GOBS subsidy for up to 30 people for ½ the cost; all Mensans will be subsidized as well as up to one guest/Mensan. For Arboretum/Botanic Garden members, the amount is $4.50. RSVPs will be via e-mail to Beth W. prior to Wednesday, September 4th. Your slot is not reserved until you've paid $12/$4.50 to Beth W. via PayPal or similar method. Tickets must be presented by non-members of the Arboretum/Botanic Garden at the entrance to the Arboretum parking lot, so attendees must pick up their tickets from Beth at the Hidden Lake Forest Preserve in Downers Grove, just 1.1 miles north of the Arboretum. Enter the Forest Preserve from IL-53 (east side of the road), and then turn right. Beth will be there only from 9:30 - 10:15 AM. At 10:15 AM, Beth will leave the forest preserve and go to the Arboretum, so you'll need to get your ticket from her before 10:15 AM. Arboretum/Botanic Garden members can meet by the tram at 10:30 AM. Our tram ride is at 11 AM. For more information, contact Beth. I hope you can come adventuring with us!

Futures & Fantasies 2:15 PM. F&F will discuss the novel State Tectonics, by Malka Older. Set in a near future in which access to accurate political information is threatened by shadowy enemies, readers will tear through this timely volume, with its wide representation in characters and highly evocative topic, which parallels our current political angst. The discussion will take place in Conference Room G on the 3rd floor of the Oak Park Public Library, 834 Lake Street in Oak Park. Water, soda and light snacks acceptable. Parking is under the building. To RSVP or for more information about this event and/or SIG, contact Steve M., the SIG coördinator. F&F usually meets on the second Sunday of most odd–numbered months.
10 /Tuesday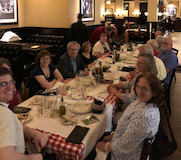 Northern Exposure: Dinner
11 /Wednesday
Northern Exposure Dinner 6:50 PM. Join us at Jimmy's Charhouse located at 1413 Peterson Rd. in Libertyville for a return visit. Feel free to join us in Libertyville for another momentous meal! Jimmy's did a wonderful job of accommodating our group last time and we look forward to a return visit. Please RSVP (no later than 10 AM) to our North Suburban Coördinator Mike B., so he can reserve a big enough table; also let him know if you need to cancel, even if it's last minute (by texting), so the restaurant can change the seating and doesn't wait until everyone shows up to take orders.
13 /Friday

Poetry SIG

Poetry Discussion 7:30 PM. Joe D. began his career as a college teacher of writing and American literature but worked mainly as a writer and editor. He seeks variety, from the philosophical to the humorous, and from the acerbic to the lyrical. His chief criteria are substantive meaning, the felicitous use of language, and technical excellence. Call him for a copy of the poems and directions to his Skokie home, or for general information about this SIG. This event is usually held on the second Friday of the month.
14 /Saturday

SwAG Session

SwAG Session 4 PM. Join the Southwest Area Group for its monthly, laid-back time together with food and talk of any imaginable topic. We meet at Kevin's home (aka SwAG HQ) on Windstone Dr. in Plainfield. RSVP by one week prior (Saturday, September 7th) is required. Please see the Southwest Area Group Facebook page to RSVP and for information about this and other SwAG events; contact the Southwest Area Coördinators to find out how to join (Kevin's contact information is also on our website). We've been meeting on the second Saturday of most months. Hope to see you there!
Chinese on Saturdays 6 PM. We meet at Lao Sze Chuan House, 1331 Ogden Ave. in Downers Grove. Come for good food, good conversation, and occasionally some slightly warped humor. Please RSVP by 2 PM via e‑mail, Meetup, or phone. For those using the phone or whose Meetup messaging is blocked, provide a way you can be contacted about any last-minute changes to the event. For e-mail or phone RSVPs, Walt L.'s contact information can be found on our website or in the September ChiMe. This event recurs on the 2nd Saturday of the month.
15 /Sunday


W-Sub Sundays
West Suburban Sundays Noon. Join us for Sunday lunch in the southwest suburbs at the Steven's Family Restaurant at 2393 63rd St. in Woodridge. The restaurant has a large variety of breakfast, lunch, and brunch items, reasonably priced. Please call John or Betty N. or e-mail John N., the West Suburban Coördinators, by 2 PM on Saturday, September 14th and let them know if you are coming. Their contact information is also in the September ChiMe. This event recurs on the third Sunday of the month.
Rainbow SIG Dinner 6 PM. Dinner at Nookies Edgewater (1100 W. Bryn Mawr Ave. in Chicago). Seating in the general dining area. Order off the menu. Plenty of parking in the rear (enter through the alley by the el tracks). Very close to the Red Line Bryn Mawr station. Contact Jim C. so we have a head count. To find out more about this SIG, also contact Jim, the SIG coördinator.
17 /Tuesday


WSW Dinner
Near West-Southwest (WSW) Mensans Dinner 6:30 PM. This month, we enjoy dining at Charlie's Restaurant, at 7427 Roosevelt Rd. in Forest Park . Spouses, dates, and significant others are also welcome. Reservations are appreciated. Please contact Jay V. so he can give the restaurant an accurate headcount. This event usually recurs on the third Tuesday of the month.
19 /Thursday
Sir Ernest Shackleton and the Heroic Age of Antarctic Exploration 7 PM. This presentation, given by Ken L., is at the Wheaton Public Library located at 255 N.Cross St. in Wheaton. The program will cover the Heroic Age of Antarctic Exploration, from 1901 through 1922, focusing on the four expeditions of Ernest Shackleton. His greatest success was his Endurance Expedition, 1914-1916, when his skills resulted in the survival and safe return of all 28 men from his ship, overcoming almost unimaginable odds. This expedition has become known as the greatest survival story of all time. Slides will include actual period photos from these expeditions as well as my personal photos taken at several of these locations. This event is free. You must RSVP to the library via their website or you may call them at 630.868.7520 .
International Talk Like a Pirate Day
Our next gathering—HalloweeM—is October 31st–November 3rd.
WeeM will be held at the
Westin North Shore Hotel,
601 N. Milwaukee Ave., Wheeling, IL 60090

The locations of the MGs vary.
21 /Saturday
Conservatives Lunch 11:30 AM. Join other members of the Mensan cell of the Vast Right-Wing Conspiracy for lunch and "secret planning" at The Patio, 2780 S. Highland Ave. in Lombard. The Patio is on the NW corner of Butterfield and Highland, but you can enter only from Highland. Look for our reserved section in the northeast corner of the restaurant. RSVPs appreciated. Open to non-Mensans; bring a conservative friend. For more info, contact Jim Z. the event coördinator.
Beverly Area Saturday Salon (B.A.S.S.) ~Noon. Spontaneous conversation in far SSW Chicago, approximate vicinity of 103rd St. & Western Ave. Please contact Rick E. the Beverly Area Coördinator, for this month's location and the exact time as well as more information; if e‑mailing, put "BASS" in the subject line. Usually recurs on the 3rd Saturday of the month, about midday.
South Bend Mensa Dinner 6 PM. Contact Gary L., the South Bend Area Coördinator of Fort Wayne, Indiana Mensa, for location information. His contact information is available here on our website or in the September ChiMe.
Monthly Gathering
Our September Monthly Gathering will be held at Benedictine University
5700 College Rd. in Lisle.
The gathering will be held in Goodwin Hall (building 8 on the campus map) which is near the south-center end of the campus. The parking garage (building 7 on the campus map) is closest to Goodwin Hall. The business meeting, games, and hospitality will be in room 411. Parent-child play and testing will be in room 212. Our speaker will be in room 321. Note: The rooms tend to be a bit chilly, so you may want to bring a sweater or sweatshirt. The Monthly Gathering directions section has more detailed information about parking and driving instructions. Please note that we have this venue only until midnight, so plan accordingly. There will be a parent-child play room available. This gathering is open to the general public. So if you're interested in learning more about Chicago Mensa, come join us. There is an admissions fee to help cover costs.


Monthly Gathering

| | |
| --- | --- |
| Test: | 4 PM. |
| Business Meeting: | 5 PM. |
| Game room opens: | 6 PM. |
| Program: | 7:30 PM. |
| Party: | 8:30 PM - Midnight. |

Forward your Mensa Voucher Program (MVP) code ("WindyCity19"), that AML e‑mailed you, to non-members, who may, at no cost, either submit prior evidence before the end of December, or preregister for a any of the supervised tests held before the end the year.
* * * * *
Get involved! Chicago Mensa needs you. We're looking for volunteers to fill some of the open positions listed both in the back of ChiMe or on the List of Officers. Or consider watching the children at the MG for a fee. You can also view the job descriptions and the required qualifications. Or try your hand at writing an article for ChiMe, submitting a photo, or creating a puzzle; see our Submission Guidelines for contact information and deadlines.

Program Topic: Ireland's Road to Independence
Our guest performer this month will be Paddy Homan, a vocalist who hails from Ireland, and who conveys its history through storytelling and song.
See the full write-up in our September ChiMe.

23 /Monday

24 /Tuesday
Breakfast in Mt. Prospect 10 AM. We meet at at Jelly Café located at 1784 W. Golf Rd. in Mt. Prospect. Diverse breakfast menu includes Mimosas, eggs, benedicts, omelettes, scramblers, skillets, french toast, pancakes, crepes, breakfast sandwiches, waffles, oatmeal, etc. Attendance is limited. RSVP no later than 24 hours before the event. RSVP to Ken L. via e‑mail. This event will recur on the last Tuesday of the month.
Sterling/Rock Falls/Dixon Dinner 6 PM. The group will meet for dinner at Kelly's. The restaurant is located at 218 Locust St. in Sterling (on Route 40 (southbound) downtown, just south of 3rd St.). To RSVP, for more information, or to get on our e‑mail list, please send a message to Dave L. our Rockford Area Coördinator. This event is usually scheduled on the last Tuesday of the month from May through October.
Tasty Tuesday Table Treats 7 PM. This month we dine at Qulinarnia Modern Polish Cuisine, 1730 W. Golf Rd. in Mt. Prospect (strip mall at the NW corner of Golf and Busse). The restaurant is rated 4.5 stars on Yelp. Weather permitting, we may be dining outdoors. Order whatever you wish; the GOBS Trust subsidy will be ½ of your total (food, drink, tax, and tip) up to $30 (maximum subsidy is $15). You are responsible for the balance, payable in cash only. I [Ken] will collect a $15 cash deposit per person prior to dinner. After dinner, the totals will be calculated, and you will either receive a refund or pay any overage. This event is open to Chicago Area Mensa members and one non-member guest and is limited to 10 people. I have the official list of attendees and will notify you if your reservation is confirmed or whether you are on a waiting list. RSVP to Ken L..
25 /Wednesday
Mensa Testing 6 PM. Location just west of State & Ontario St. in Chicago. You must preregister and prepay — very limited seating. Parking is very expensive; public transit strongly recommended! Latecomers and anyone without a reserved spot will not be admitted. If you are or someone you know is interested in joining Mensa, see our Testing Information for contact details and additional dates/locations. For October tests, the fee will be only $30, a 50% discount. Don't delay! Mensa members, forward your AML Mensa September e‑mail with our local group Mensa Voucher Program (MVP) Code ("WindyCity19") now to any interested non-members so they can preregister and take a future test, or submit qualifying prior evidence, for free.
Event Not in ChiMe!!
Cheddar Curtain Area Dinner 7 PM. It's South-of-the-Border, north of the border! Please join us for our monthly Mexican feast, bringing together Mensans from both sides of the IL/WI state line. We'll meet at Iguana Wana Mexican Grill & Tequila Bar located at 9080 76th St. in Pleasant Prairie, WI (a couple minutes east of Exit 344/US-50 on I-94); the food's muy bueno, and the parking is easy. While the weather's still mild, we'll dine al fresco on their lovely covered patio. Please RSVP via e‑mail by 10 AM the morning of the dinner so I [Janice] can reserve us a big enough table. This event recurs on the fourth Wednesday.
Venue Change to Take Advantage of Patio!!
29 /Sunday
Ethnic Dining: Scottish Fine Dining at Balmoral 2 PM. This is the dining event you've been waiting for — a full 4 course Scottish fine dining experience like no other at Balmoral Restaurant located at 40W099 Illinois Route 64 in Campton Hills. Prix fixe menu where you have several options for each of the courses including Haggis for the 1st. GOBS-subsidized cost will be $40/Mensan for a maximum of 50 people; each Mensan may invite one non-Mensan, GOBS-subsidized guest. Money will be collected in advance (if possible) or in person at the event. Hosted by our LocSec Laceé H. RSVP no later than 2 PM Tuesday, September 3rd, but it is likely the maximum will have been reached long before the deadline. See article in the August ChiMe. Please RSVP via e‑mail or text (no voicemail) or via Chicago Mensa Meetup. Learn more & RSVP on Chicago Mensa Meetup.
Rosh Hashanah

starts at sundown.
* * * * *
1 October
/

Tuesday
ChiMe Activity Bulletin and Advertising Deadlines. Last day for these submissions to the November ChiMe.

ChiMe Editorial Deadline. Last day for editorial submissions to the November ChiMe. Please submit original articles, insights, puzzles, brain teasers, or short poems. Your fellow Chicago Area Mensans would love to hear from you.
September
1
2
3
4
5
6
7
8
9
10
11
12
13
14
15
16
17
18
19
20
21
22
23
24
25
26
27
28
29
30